Halloween comes in a few days, which is a good chance to play with your creativity and imagination. Preparing for this creepy holiday, you should take care of multiple things including settings, costumes, and refreshments. To help you with these duties, we have compiled an exclusive set of 20 free Halloween PSD mockups. They can be used for multiple purposes, from decorating your home to adorning your online portal. You may also want to organize a masquerade, and these freebies can help you invite guests and spread the word about it. With their aid, you can create stylish invitation cards and flyers.
The mockups featured in our post depict traditional symbols of Halloween, e.g. carved pumpkins, skulls, bats, spider web, scary creatures, etc. They are unique and colorful; some of them even look a little erotic. Their designs are created in a way to let you highlight multiple details of your upcoming event. In such a way, you won't only attract visitors visually, but will also let them know what to expect at your party.
What's cool, there is no need to hire a professional graphic designer or create anything on your own. Everything is ready for use at no charge. Even if you don't like any details of these customizable Halloween PSD freebies, you can add your personal touch to their designs by editing them in Photoshop. So, don't hesitate to experiment with their texts, colors and other elements to come up with a desirable look. The easy-to-manage layered structure of each mockup listed below will make the entire process of customization a breeze.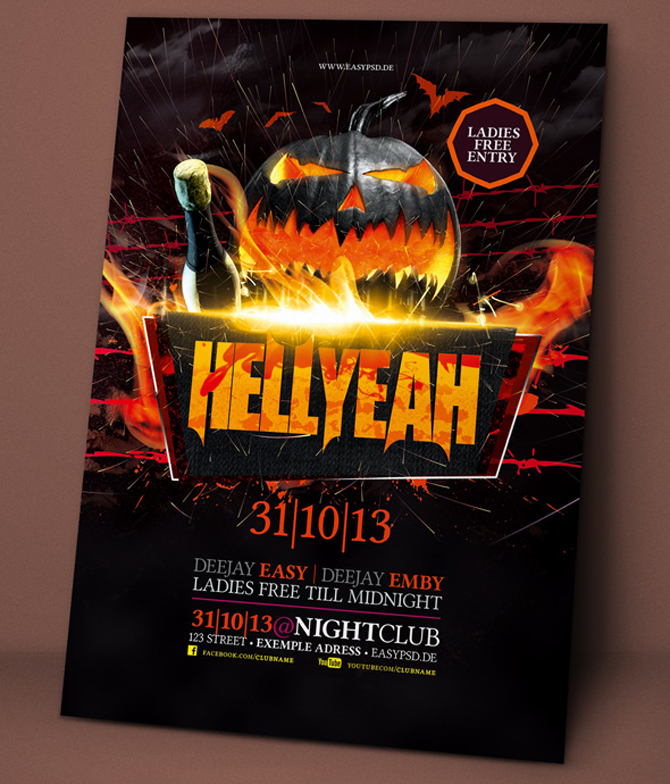 This Hellyeah flyer is made of well-organized PSD layers that can be easily modified. This free Halloween mockup has the following parameters: 1264 x 1772 px and 300 dpi.
* * *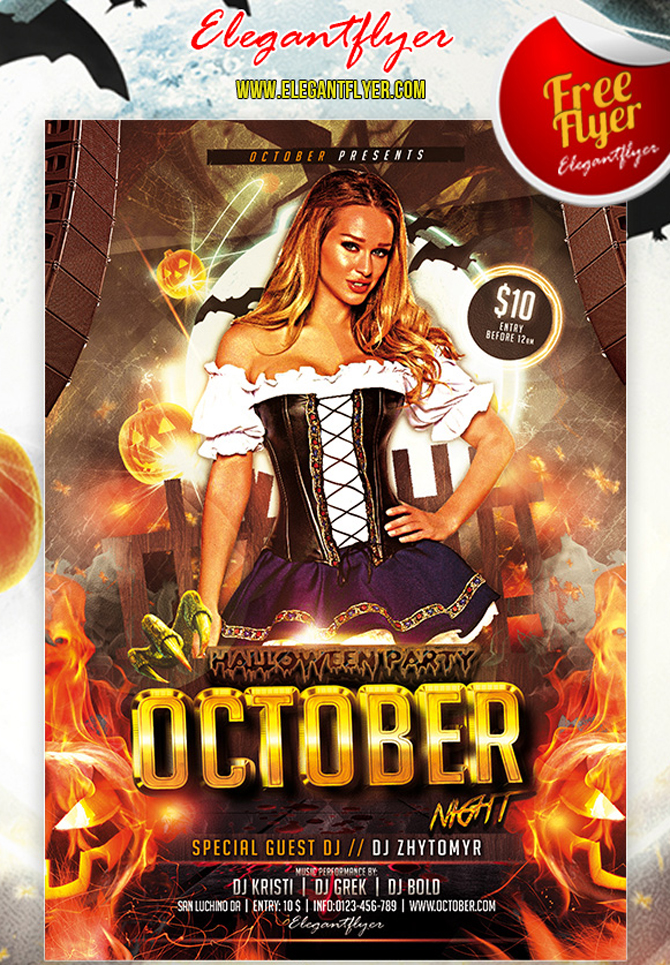 The next Halloween freebie features a sexy lady surrounded by bats, jack-o'-lanterns, monster claws, and fire flame. Thanks to its easily editable layers, you can change the content, objects and colors. The size of the template is 1275 x 1875 px, and the fonts used in its design include Big Noodle Titling, Rocky and True-lies.
* * *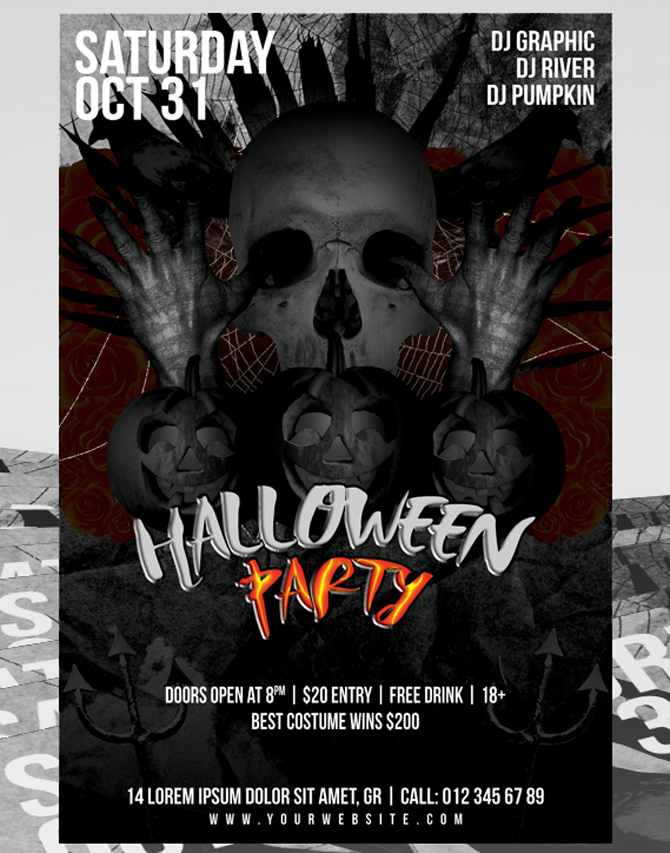 Here is another cool Halloween party flyer that can be downloaded for free. It comes in size of 4" x 6" and with 300-dpi CMYK file.
* * *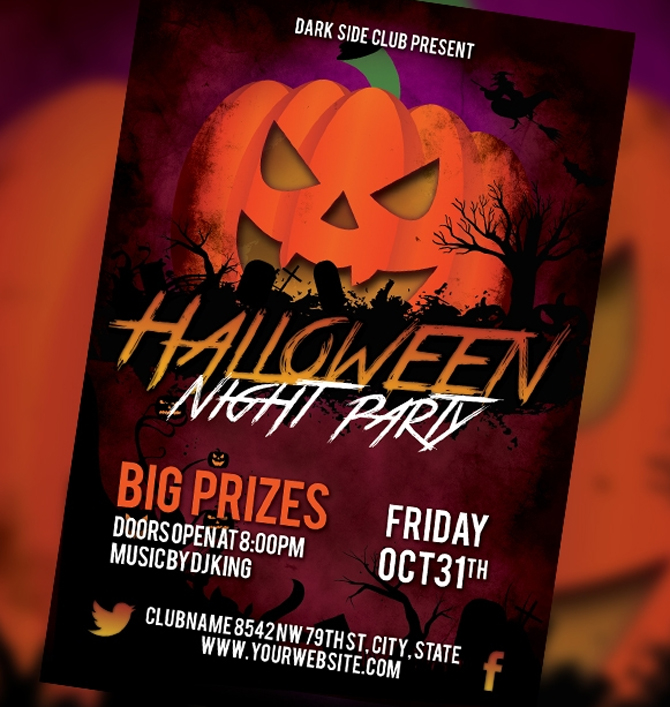 Check this fresh PSD flyer custom-made for Halloween parties and nightclubs. You can adapt its text and palette to your own taste and needs.
* * *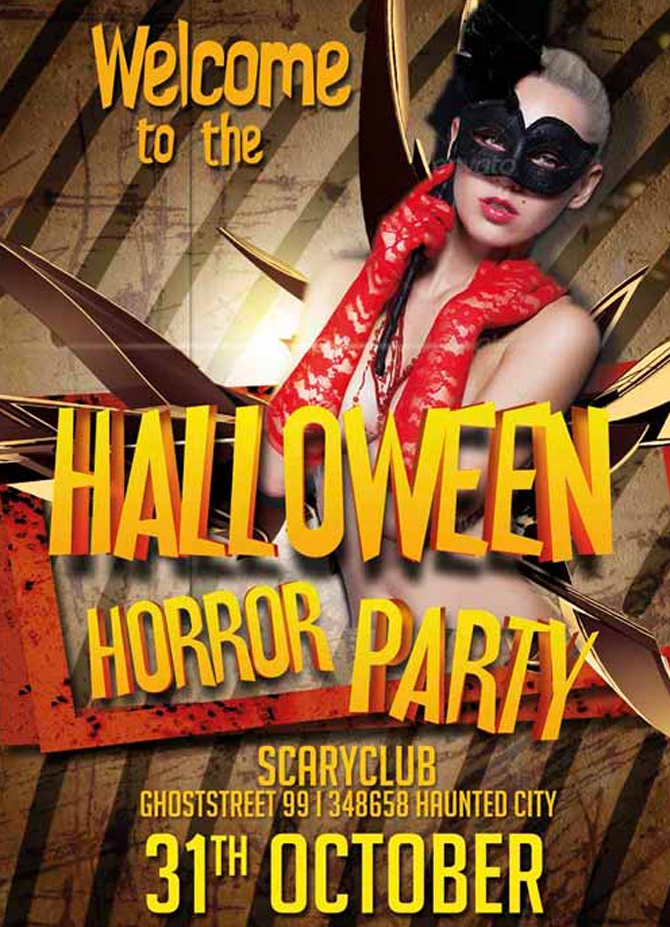 This PSD mockup freebie is meant to promote your upcoming Halloween masquerade. No one will be able to resist the temptation to visit your event after taking a look at a half-naked blonde depicted in the template. The template comes with a 300-dpi CMYK file as well as Big Noodle Titling and Wicked Scary Movie fonts.
* * *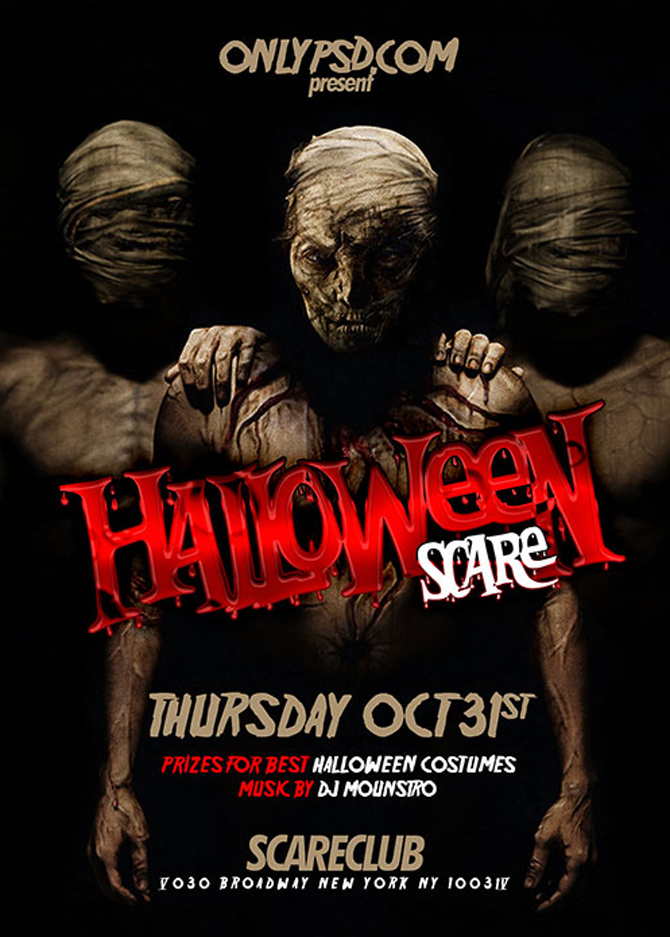 The package of this free Halloween flyer contains fully layered PSD files, RGB & CMYK PSD files, JPEG examples, and notepad instructions. It requires using the following versions of Photoshop: CS, CS2, CS3, CS4, CS5, CS6, and CC. The fonts used in the template include Friday13, Futura BdCn BT and Bleeding Freaks.
* * *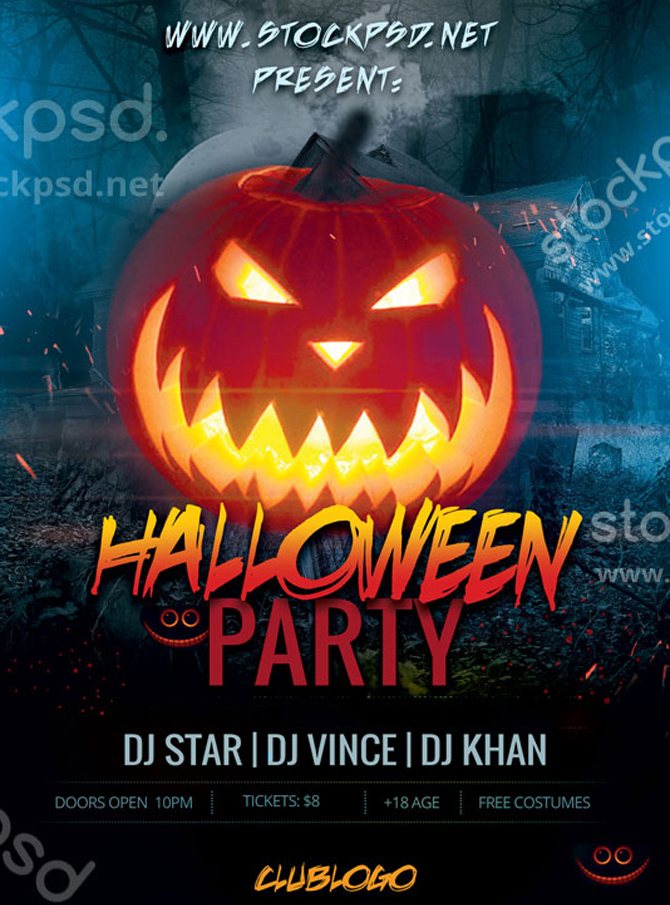 This easy-to-customize Halloween freebie is available in 4.25" x 6.25" and 300-dpi CMYK color. It also makes use of such fonts as Open Sans, Death Rattle BB, and Oswald.
* * *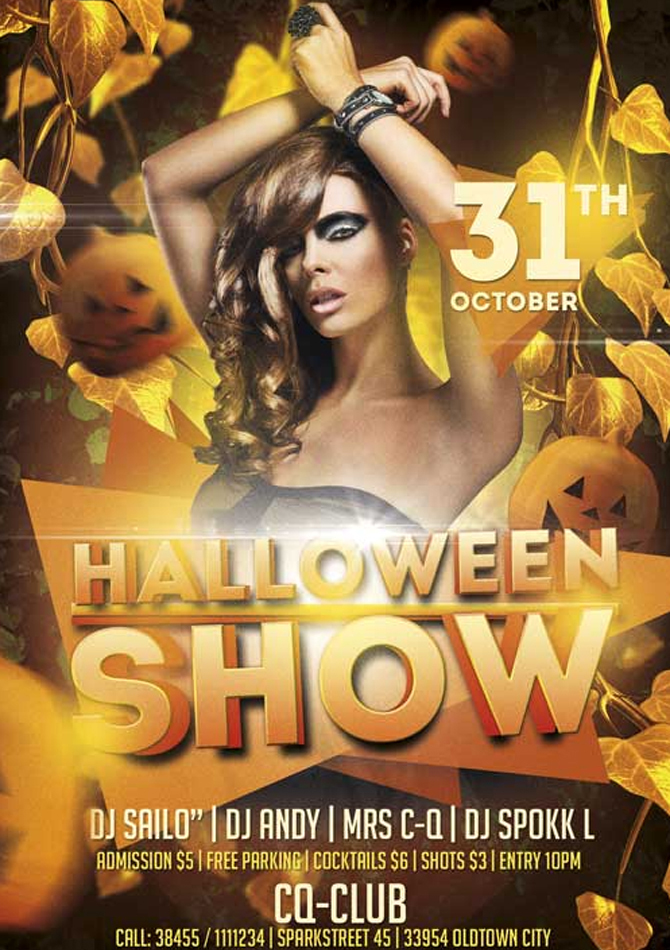 Here is a free Halloween flyer with an ultramodern design, where you can see a sexy lady against the background of orange leaves, pumpkins and other details. This PSD template has a 300-dpi CMYK file and utilizes Big Noodle Titling and Intro fonts.
* * *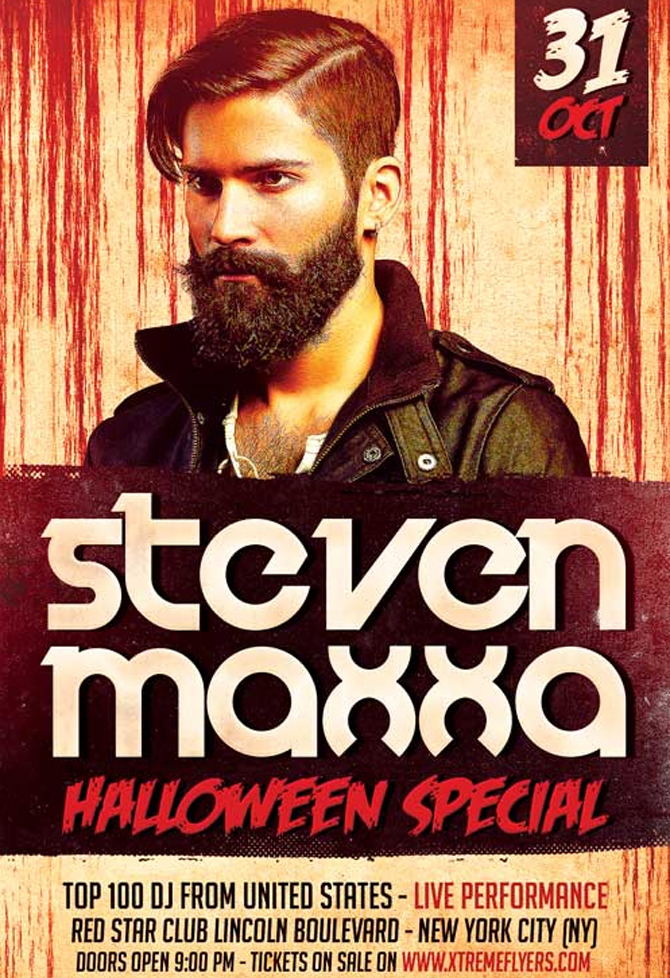 This free Halloween DJ flyer has the following features: 300 dpi, CMYK, editable text and color scheme. It provides ease of adding elements to this layered PSD and removing them from it. The template's design is supported with Montserrat, Feast of Flesh, Velocity, and Big Noodle Titling fonts.
* * *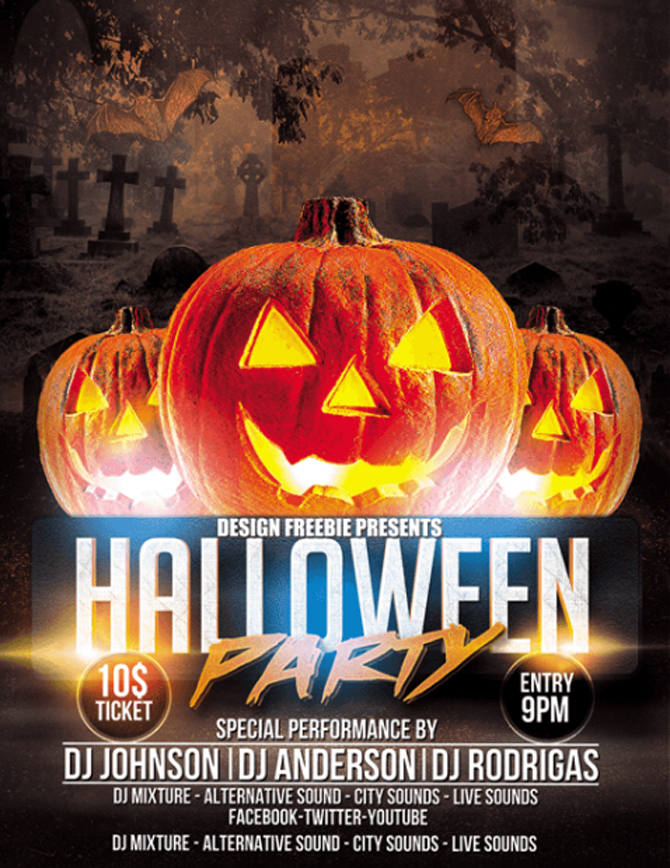 Using this free customizable Halloween mockup, you'll have an opportunity to create a unique image for your upcoming event. You can edit the party name, guests, price or simply add "entry free" note to the flyer, if you charge no fee for entrance. The major template details include 4.25" x 6.25" dimension, well-structured PSD layers, high resolution of 300 dpi, CMYK and Bleed settings. As for the fonts, this flyer is spiced up with Big Noodle Titling, Death Rattle BB, Bebas Neue and Impact.
* * *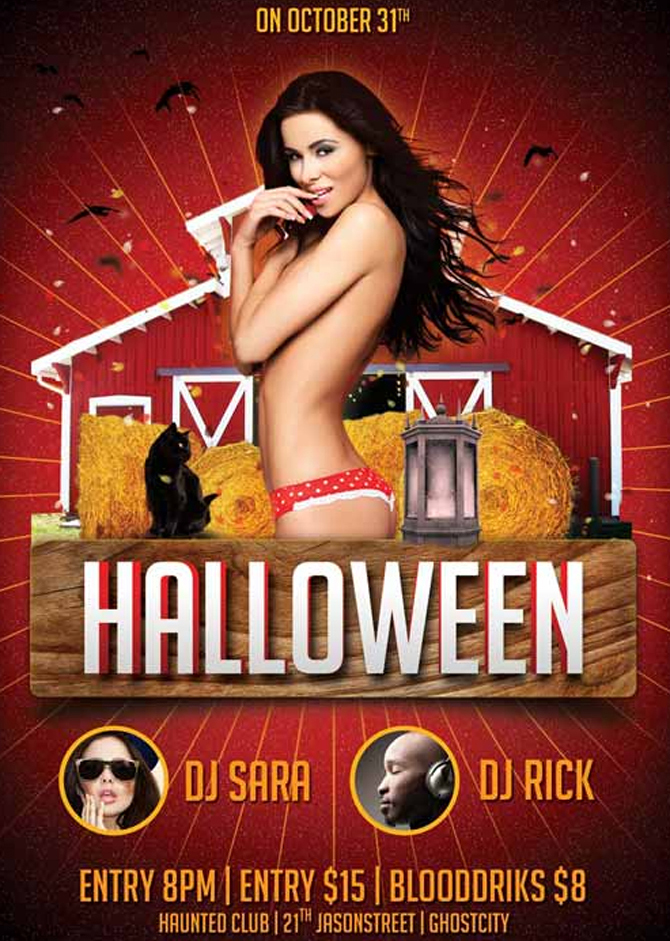 This high-quality Halloween flyer available for free shows a hot model in red lingerie, which is perfect for attracting the stronger sex to your theme party. To characterize this freebie in short, it's worthwhile to mention a 300-dpi CMYK file, customizable elements, and use of Bebas font.
* * *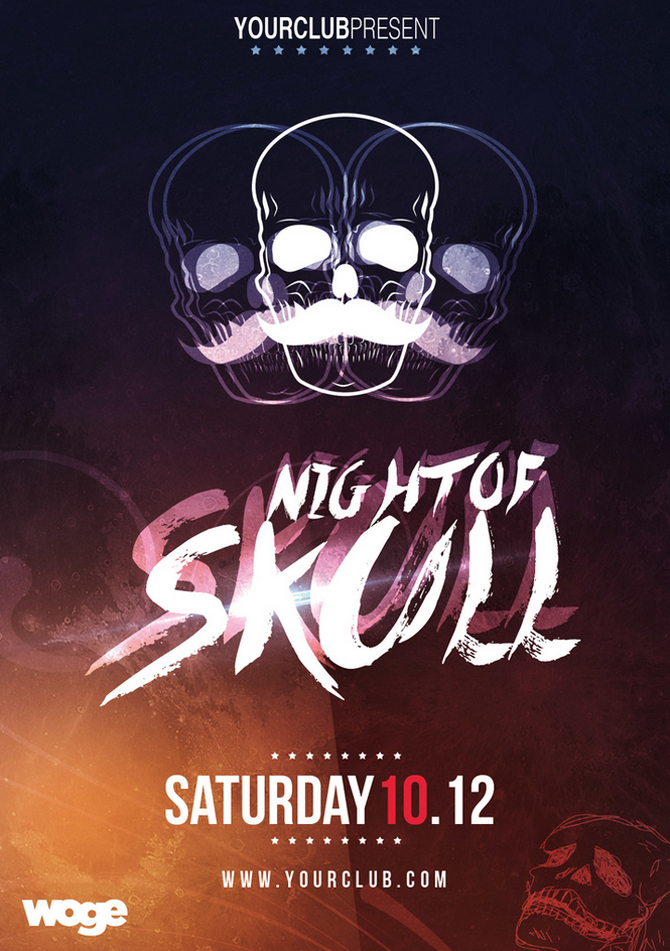 This Halloween PSD freebie is another cool option for sending invitations to your costume party.
* * *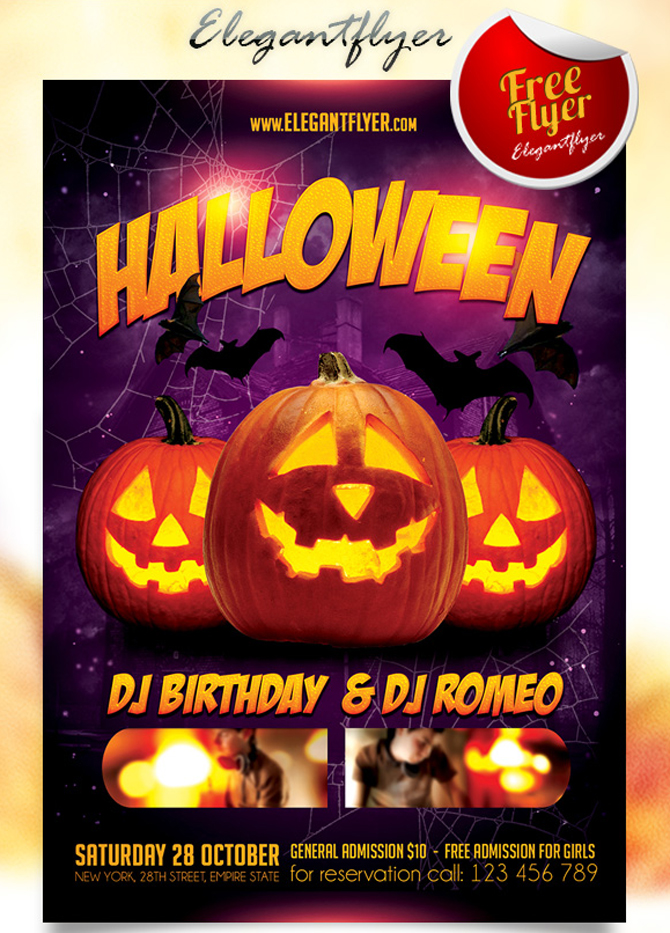 Don't miss another stunning Halloween flyer in PSD. The mockup comes in 1275 x 1875 px and contains editable texts, colors, objects, images, etc. Its design is notable for Big Noodle Titling, Bada Boom BB and Champagne & Limousines fonts. As a bonus, there is an additional PSD file to redesign your Facebook page in the Halloween style. Similar to the main template, this one has editable elements as well, so feel free to add desirable changes to it.
* * *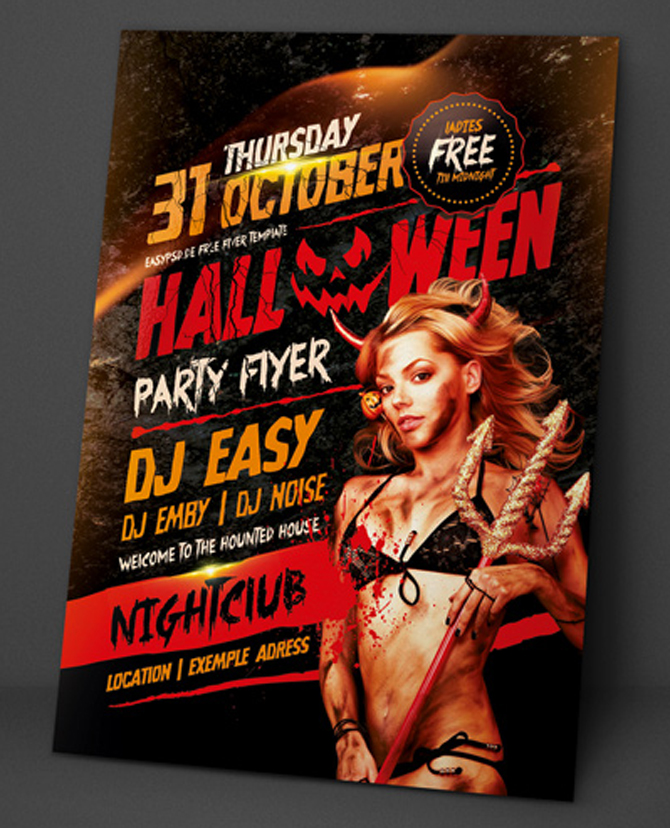 This free, fully layered PSD flyer of 1264 x 1772 px and 300 dpi is a customizable solution for your Halloween project.
* * *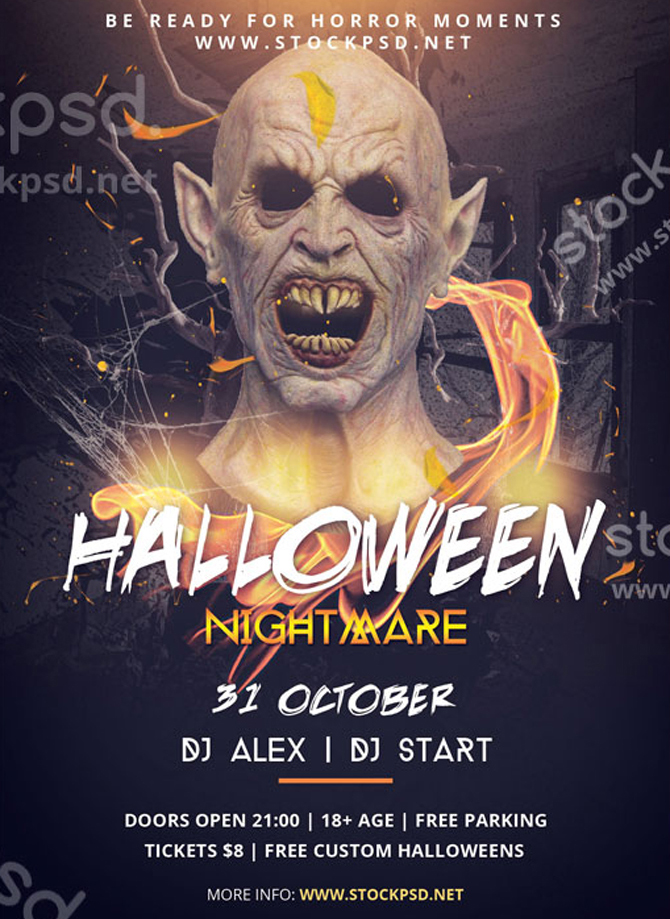 The next Halloween flyer is designed in a fully layered PSD file of 300 dpi, 4.25" x 6.25" size, and modern fonts such as Phantom, Death Rattle BB, and Open Sans.
* * *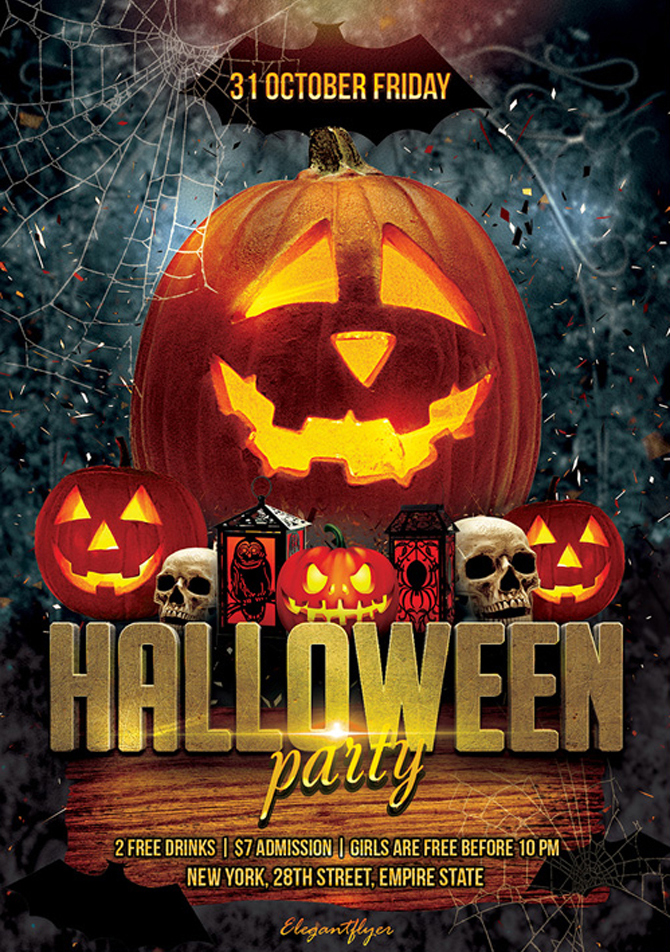 This Halloween PSD mockup of 1275 x 1875 px features a well-organized structure with color-coded groups and layers. Its typography is presented with Bebas Neue, Avalon Medium and Big Noodle Titling fonts.
* * *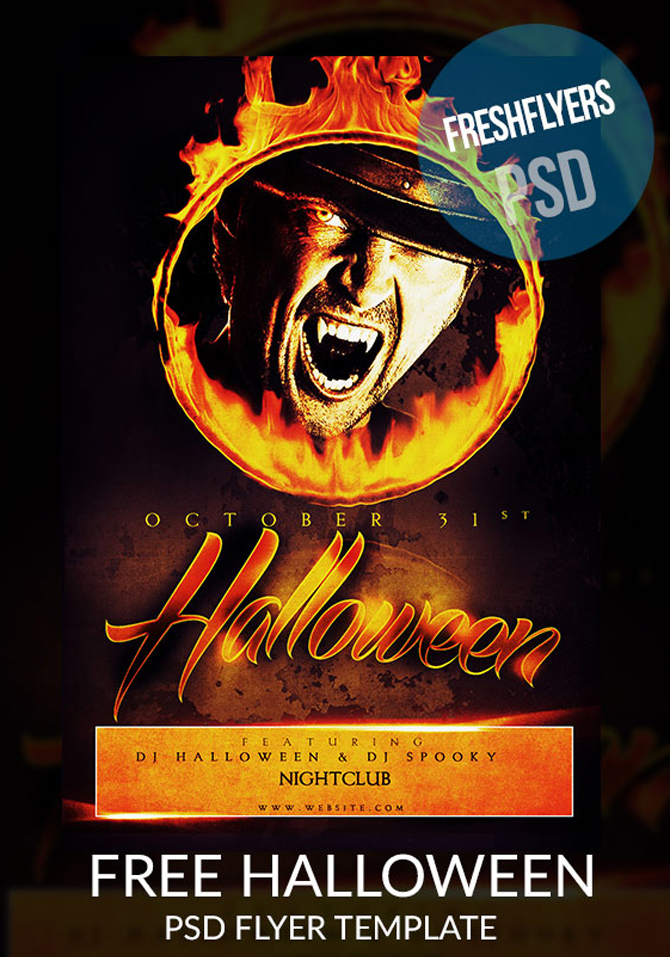 Consider this free Halloween PSD flyer to stand out among your rivals. The freebie comes in size of 4.25" x 6.25".
* * *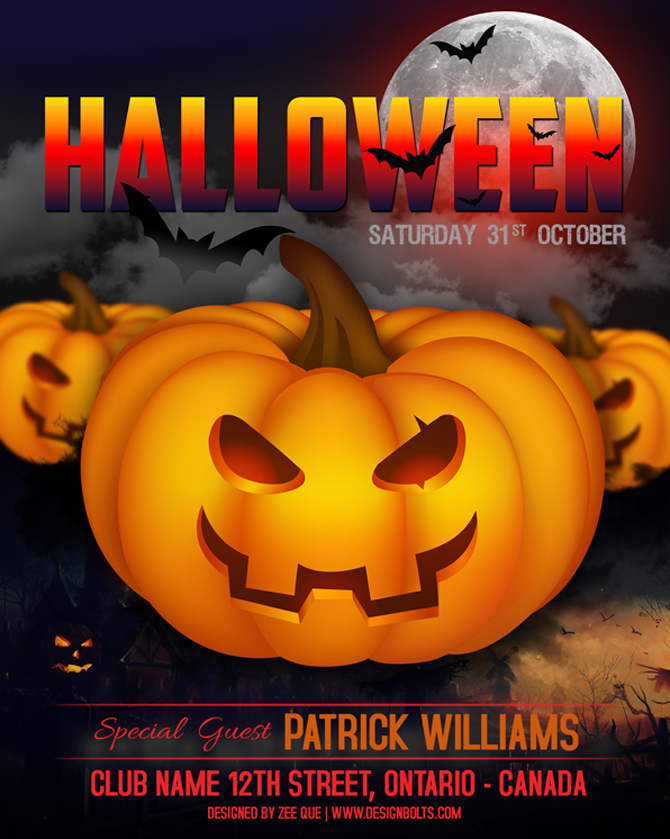 This free multipurpose PSD can be used as a poster, invitation card, flyer, and other Halloween-related items.
* * *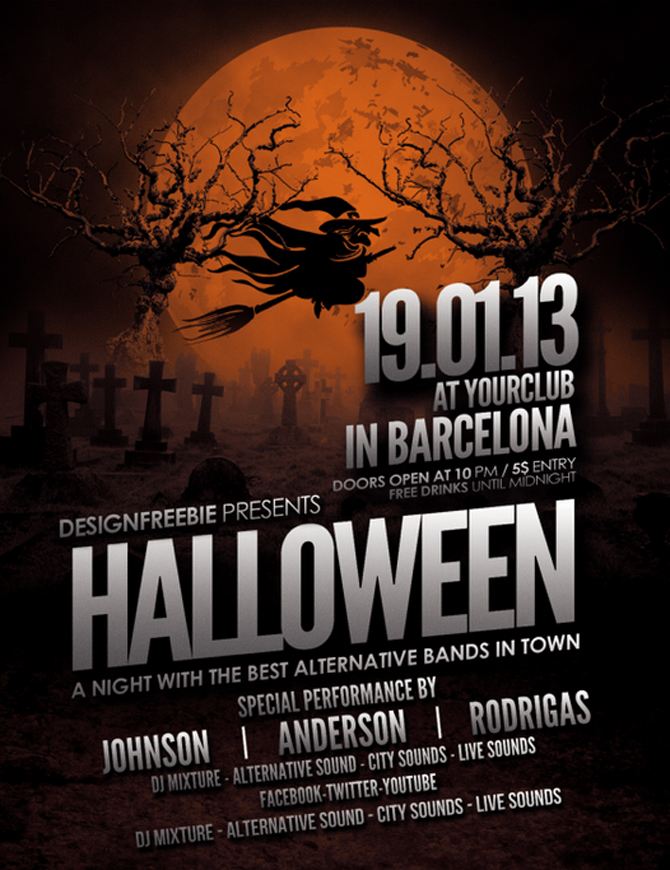 This free Halloween party mockup of 4.25" x 6.25" and 300 dpi boasts a text-rich design. It allows you mention a lot of details of your Halloween event using League Gothic, Century Gothic and Bebas Neue fonts. The template is packed with well-arranged PSD layers that can be easily changed the way you need.
* * *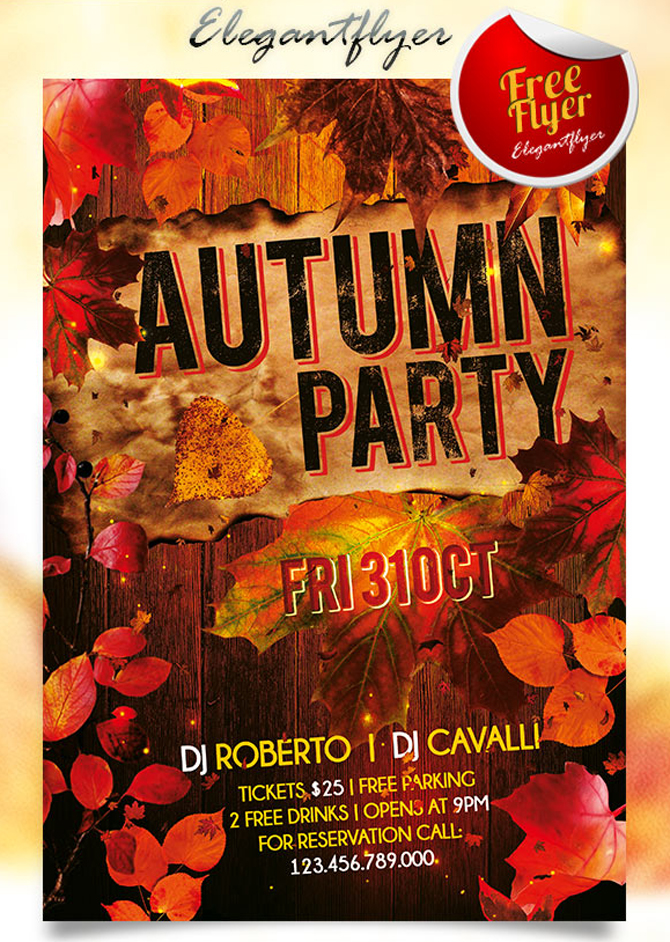 This autumn party PSD template is a good choice for your Halloween projects. Dimensions of 2625 x 3375 px, Bebas and Champagne & Limousines fonts, and extensive customizability are the main features of this freebie. It also offers a free bonus, i.e. a Facebook cover in PSD.
* * *
These 20 free Halloween PSD mockups can serve as festive decorations for your real life and web environments. They are also effective tools for promoting your upscale events, be it a club party or home get-together. Keep in mind that you can use our set for inspiration, especially if you're eager to create a poster or flyer yourself. So, which one of these Halloween freebies is worth trying, in your opinion? Feel free to share your viewpoint with us!