Attention individuals, brands and businesses using Facebook. Here you'll learn how to save 25% when buying stunning Facebook Templates. Simply click on the image below and you'll be taken to a page where you can choose a Facebook Template to your liking.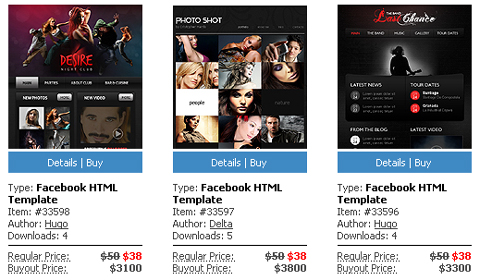 By the way, discount Facebook Templates available following the link can be edited with any HTML editor. In other words, it'll take you minimum time and efforts to personalize them. Another great thing you should know about these Facebook layouts is that they are enhanced with dynamic jQuery elements and therefore look so beautiful and engaging.
Although, the discount is great, it's only valid for 1 month. So you have not much time to enjoy the sale.
And the last thing to mention: not only Facebook HTML Templates are one sale, but also Facebook Flash templates and Facebook Flash CMS Templates (click here and here respectively to check their designs). So whether you'd like your Facebook profile to be static or dynamic, now you know where to find Facebook Templates you may need.