Sometimes, you want to work on a new thematic project, but you have no idea where to start. Your boss is on your neck for excellent photo collections, and your mind is blank. You can always turn to popular culture, or more specifically, movies and TV series, in such situations.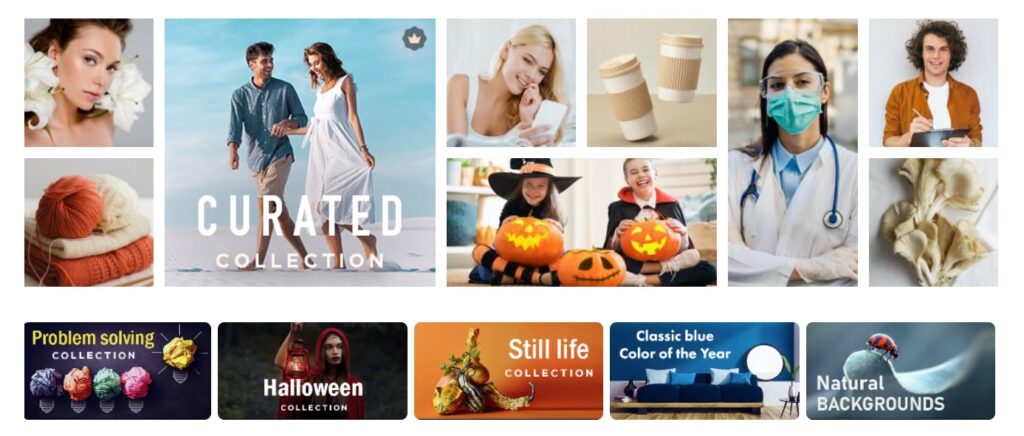 Many people turn to the best movies, songs, or books whenever they need to engage their audience, attract attention, or meet a tight deadline. It's a go-to resolution and easy to utilize. But, even when you decide to use images based on popular movies and shows, it's hard to get the feel of the movie across without posting screenshots of its posters.
It becomes way simpler once you use stock image platforms with hundreds of millions cut across an extensive range of purposes and projects. This is where Depositphotos comes in. Among all the images offered, it's a piece of cake to find pictures with the same artistic setting as the movie or series you have in mind.
To convince you further, we compiled visuals related to Twin Peaks, Game of Thrones, The Grand Budapest Hotel, and Moonlight here. You can check out our photo catalog whenever you need a little bit of inspiration for your aesthetic projects.
Twin Peaks Photo Collection
This sitcom was released back in 1990 but has since become a groundbreaking cult classic. Twin Peaks offered an alluring storyline and spectacular acting and aesthetics, attracting a wide range of awards, including some Golden Globes and Emmys. It was also titled one of the greatest television shows of all time by Rolling Stone magazine.
This is considered a massive success because, back in the 90s, there was no Netflix or personalized viewing. Instead, everyone had to turn to bulky television screens to enjoy the show, yet they still did.
After its success in the 90s, it came back for a third season in 2017, and it can even be said that it was more famous than the initial version. It took the older generation down memory lane, and since it was done with modern style and actors, it also attracted the younger generation.
Twin Peaks is often viral among viewers because it combines strange and bizarre concepts with the simple plots you find in soap operas.
David Lynch paid a lot of attention to every little detail while trying to recreate the artistic design of the initial Twin Peaks. Thus, lots of creative artists are motivated by his work and use this in their art.
If you want to draw in a target audience that enjoys dramas and murder mysteries, or if your content is based on compelling content, using the dark and murky concept of Twin Peaks is a great idea. So, Depositphotos has some great images in their Twin Peaks collection.
You can create mystery with a foggy forest if you're talking about a thriller or telling a creepy story. The misty forest will also make an excellent aesthetic for social media posts asking others to make up murder thrillers! Can you feel the ideas rushing in?
On the other hand, if you need something similar to a retro vibe, a picture of classic retro diner stools will go a long way in passing the info across. You can also use an image like this for posts about food and dining!
Game of Thrones Photo Collection
If you want to make your audience go wild, why don't you go for a more recent fan favorite like Games of Thrones? A wide range of audiences loves this impressive TV series, so you don't need rocket science to determine that yours would be the same. Eleven years after George R. R. Martin created his famous Games of Thrones saga, the TV series moved to break viewership records at HBO!
The atmosphere of Games of Thrones will feature a medieval theme, so if you're doing anything with historical content, you've found what you're looking for! Games of Thrones also offered some striking effects, and the pictures in our photo collection can provide the same!
You can find picturesque views of Northern Ireland, Iceland, and Croatia, places where they shot parts of the TV series to make it more realistic. These countries display sceneries similar to historical worlds. The images also include picturesque castles, statues, and tools for warlike armory and swords. You can find all these visuals and more in the listed Games of Thrones photo collection brilliantly put together by content curators.
For one, you can use pictures of breathtaking villages in the Austrian Alps, similar to the views in Games of Thrones, and ask your followers to guess the location. If the view is very similar to something in Games of Thrones, you can also ask for dialogue and make it more fun!
If not, you can also develop a short blog post inspired by Games of Thrones and use some great pictures like metal swords joined together. From the image, any Game of Thrones fan will get the message and be moved to read what you have to say.
The Grand Budapest Hotel Photo Collection
There's no better way to impress your followers or readers than with photos based on one of the most atmospheric movies of all time, The Grand Budapest Hotel. Directed by famous American Wes Anderson, whose style can be recognized from a far distance, the movie broke records and went into the hearts of many.
Anderson was thinking outside the box and using the standard aesthetics, but with unexpected colors and designs. He made the movie's atmosphere different from others by adding details to the intricate shots and a vintage vibe to the film with pastel shades. The artistic aspect of the movie wasn't classic, but it wasn't modern either.
Thus, Depositphotos has put together The Grand Budapest Hotel photo collection based on pictures and images that show pastel and vintage designs and themes, as well as complex visuals. You can also find pictures of amazing architecture and eye-catching mixtures of pastel colors, as well as fantastic interior design ideas.
If you think your audience will be excited at the notion of a blog post inspired by The Grand Budapest Hotel, you can take some of the great pictures we have in our thematic collection. For example, this picture of a poolside painting ironically reflecting in water will make a great fit.
Since The Grand Budapest Hotel is based on a fictional hotel, you can also use the pictures from the collection on posts or articles talking about unique and colorful architecture. For instance, this image of colorful spiral staircases in Bugis is excellent for architectural value and similar to the design shown in the movie.
Moonlight Photo Collection
Lastly, we have Moonlight, one of the top movies of the 21st century. The movie rose in popularity because it revealed the subtle stereotypes in today's world and raised the debate on black masculinity's controversy. Apart from its impressive storyline, Moonlight again blew viewers away with its beauty and eye-catching visuals.
The movie's most notable scenes were evident as the director used dark backgrounds and vivid colors to display the emotions. Since most of the actors were African Americans, it also brought out their dark skin and made them look bold in the face of challenges. Some of the shots are now being used as inspiration for photographers who want to raise awareness on problems relating to racism.
If you want to post some thought-provoking messages on your blog or share your views on contemporary issues, you can use some of the pictures from the carefully selected Moonlight photo collection. For instance, in an article on single fatherhood, you can use this beautiful picture of a man holding his baby.
You can also impact your words about racism by posting pictures of people from other races. This will make your readers more interested in your thoughts.
Don't Stay Stuck in a Creative Block
Rather than giving into creative blocks, look into our movie-based photo collections and begin making magic with your content. You can bookmark this article to return to whenever you need any of the photo collections listed above, and gain access to hundreds of photos from professional photographers and illustrators.

If you're looking for something different, you can check out Depositphotos and input your keyword in the search box. You will be surprised at how many good photos you can find.
These photos will add value and professionalism to your websites, blogs, and projects and give you the inspiration you need to create masterful content.