There are so many eCommerce themes out there that you may feel dizzy while searching for the right one. Upon multiple clients' requests, TemplateMonster revealed their most popular designs for online stores to narrow down your search to only tried and tested solutions. In their roundup, you can find the best WordPress eCommerce themes for a wide range of niches. They include cars, clothes, electronics, food, cosmetics, flowers, medical equipment, cookware, books, and many others. Even if there is no theme related to your specific field, you can adapt any of them to it thanks to their full customizability.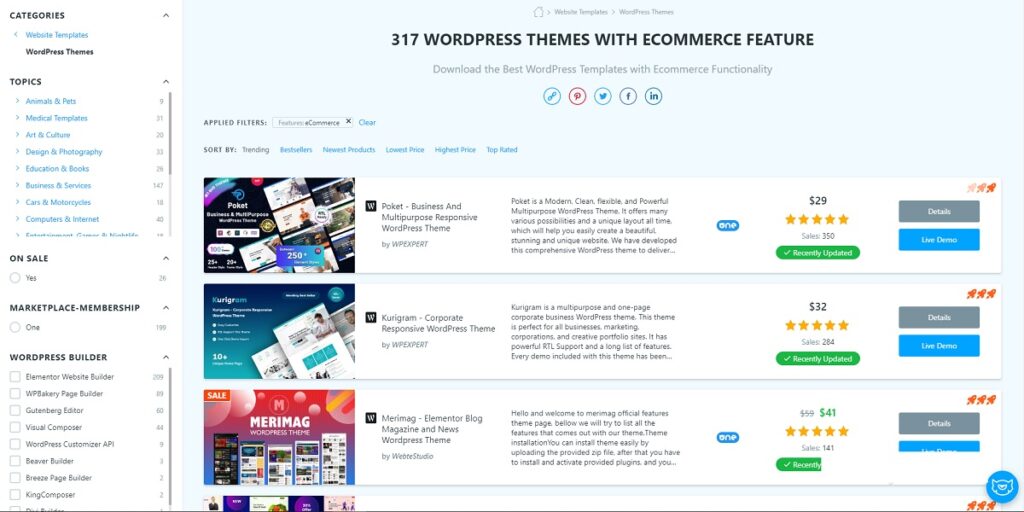 Integrated with WooCommerce
The themes are supplied with all the essential functionalities to turn your store into a powerful, money-making machine. Here they are.
Responsive Design WordPress eCommerce Themes
These Bootstrap-powered themes are fully responsive and, therefore, suitable for mobile commerce. Not only can responsive design provide an equally optimal experience for users of different devices, but also make your store Google-friendlier.
Sticky Navigation
Being fixed to the header, the menu bar gives constant access to product categories, wherever the visitor is on the page.
Dropdown Cart
Thanks to this feature, there's no need to proceed to a new page each time customers want to check all the items in the cart.
Rich Multimedia
You can fill your store with podcasts and videos to show your items in action. With a video product presentation, it's possible to boost customer engagement.
Product Showcase
What can provide a successful product presentation is a slider, carousel, badges, ratings, easy-to-the-eye palette, and much more. If you need to add some awesome graphics you can use the free vectors download search engine.
Customer Interaction
The best WordPress eCommerce themes by TemplateMonster are supplied with tools to let you interact with customers. A contact form enables visitors to send you an email, a newsletter form allows them to subscribe to your store updates, and an online chat ensures real-time communication.
Google Map
It allows you to display the location of your store and its branches on an interactive map with a zoom-in effect.
Advanced Animation WordPress eCommerce Themes
These themes utilize advanced animation effects for different purposes. For example, parallax scrolling makes static pages more dynamic, whereas lazy loading minimizes their load times.
WPML-Ready
This is what you need to build a multilingual store and, therefore, sell products on a global scale. The more people you reach, the more sales you can make.
Free Lifetime Support
If you have any questions, feel free to contact the team of professional consultants at virtually any time, 24/7. Consultation is always free, whether a day or a year has passed since you purchased your theme.
Keep in mind that these are the major features of the best WordPress eCommerce themes by TM. Each of them has its own zest to make your store unique, powerful, and profitable. Go to MonsterPost and choose a proven solution for your eCommerce project. After you bought your site template, it's time to choose the right hosting for your site, check out this hosting feature comparison chart.