Everyone longs for attention on Saint Valentine's Day, be it hearty congratulation with a postcard or invitation to a romantic event. No one wants to stay alone on the Day of Love, that's why a lot of parties are arranged throughout the world. If you are planning an event for this holiday, one of the first things to focus on is its promotion. This is when my hand-picked selection of 20 free Valentine's Day PSD flyers will come in handy.
First of all, let's figure out what advantages these holiday freebies provide.
Money Saving. These flyers are meant for those of you who stick to a tight budget. Any party arrangement requires a lot of money, so you will have an opportunity to save some at least on invitations.
Versatile Nature. You can use these flyers to promote various events, particularly a grand-scale gathering, club bash, restaurant dinner, home party or anything else.
Variety of Styles. The flyers from this selection are designed in different styles. Whether you need a classy invitation for a romantic evening or a splashy one for a night of revelry, you'll easily find what you're looking for.
Unlimited Customization. These layered PSD templates can be edited in Photoshop in any possible way. From colors and images to text and objects, you can experiment with their designs as long as your imagination permits.
Now, look through 20 free Valentine's Day PSD flyers and choose the one that can help you spread the word about your upcoming event efficiently.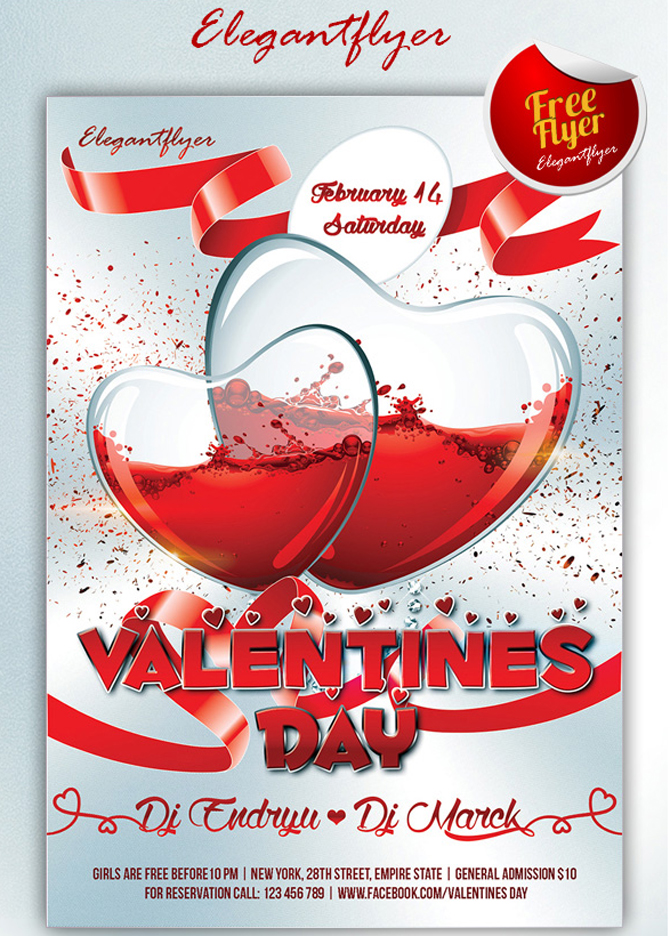 This free Saint Valentine's Day flyer boasts an elegant composition with 3D elements, e.g. hearts that are half-full of love elixir. Its dimensions are 1275 px x 1875 px (or 4" х 6" with 0,25" bleed). You can easily edit any part of this well-layered PSD, from its text and imagery to palette and objects. The fonts used in its design include Wolf in the City, Fontdinerdotcom Luvable, and Bebas Neue. For ease of use, the template comes packed with a help file.
* * *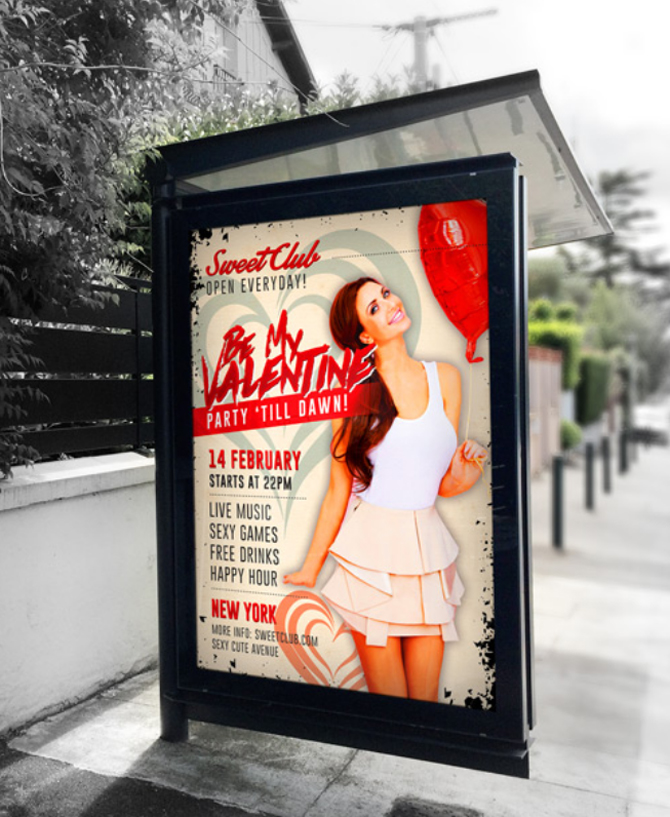 This freebie compatible with CS3+ is a fully customizable solution for creating a party invitation with ease and style. It features well-organized PSD layers and print-ready CMYK file of 150 dpi.
* * *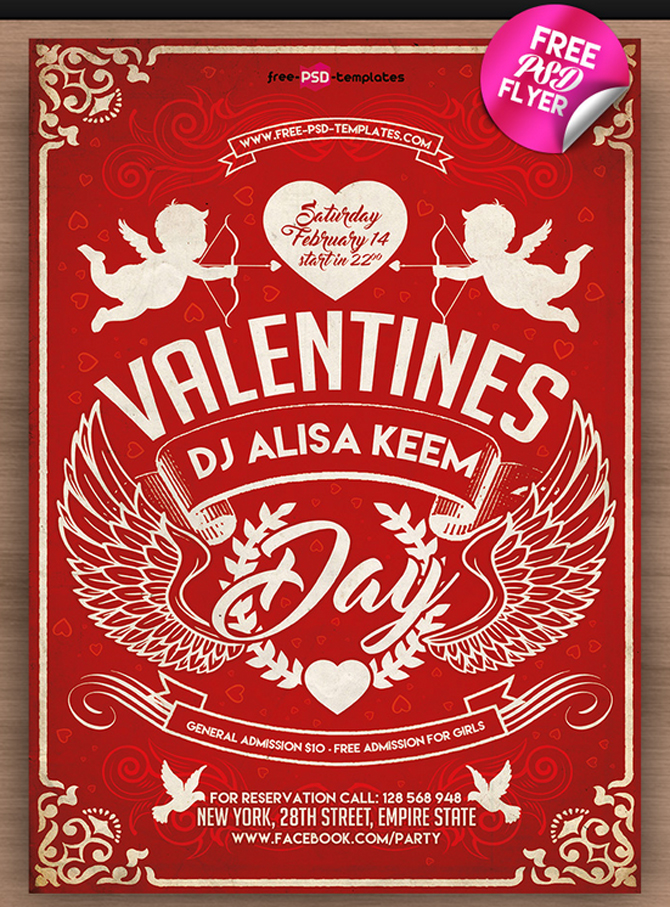 Here is an easy-to-edit PSD flyer template available for both private and commercial purposes. It comes with a CMYK file of 300 dpi and makes use of Big Noodle Titling, Master of Break, and Lemon/Milk fonts.
* * *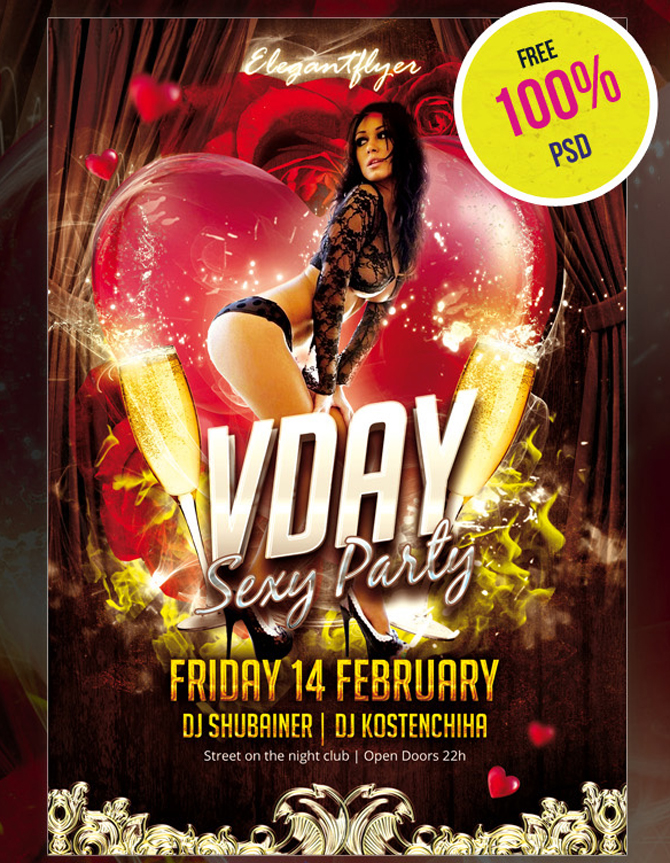 This stylish flyer design is notable for a sexy model, large 3D heart, burgundy roses, and exquisite pattern at the bottom. The template is based on a fully layered PSD structure and utilizes Big Noodle Titling and Black Jack fonts. It has parameters of 1350 px x 1950 px (or 4" х 6" with 0,25" bleed).
* * *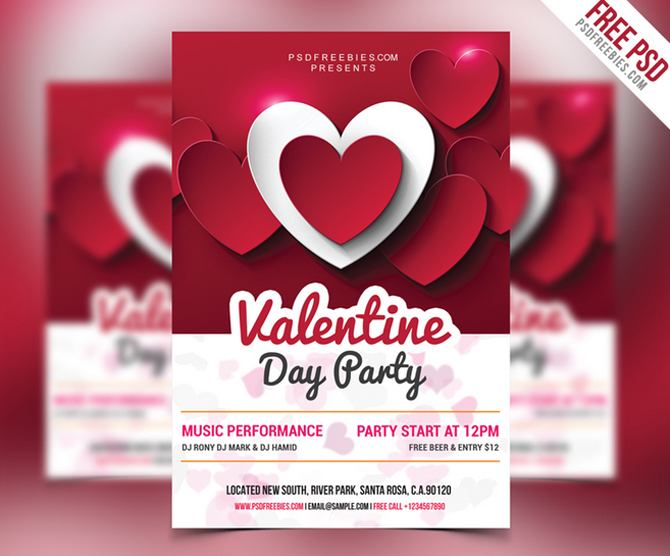 Here is one of the latest free Valentine's Day PSD flyers. This modern, simple and lovely template comes with fully editable text, colors and styles. As its elements are kept in separate layers, you can easily customize them one by one.
* * *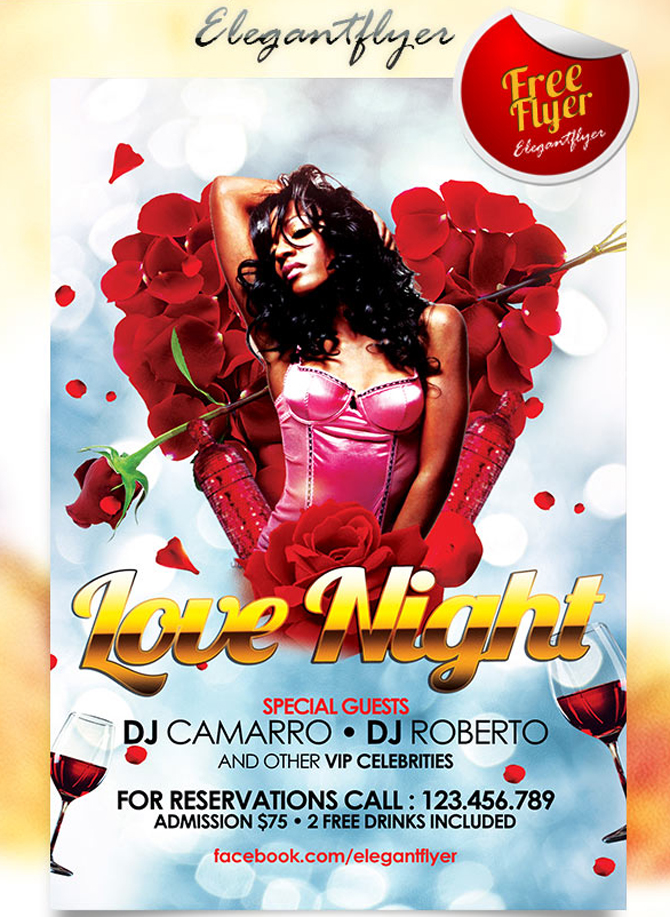 This flyer template provides a royalty-free usage as many times as you need. The PSD dimensions are 2625 px x 3375 px (or 8,5" х 11" with 0,25" bleed). You can customize it the way you like, e.g. change its colors, replace elements, etc. The fonts used for the template's typography are Lobster and Century Gothic. As a bonus, you can also get an editable cover for your Facebook main page.
* * *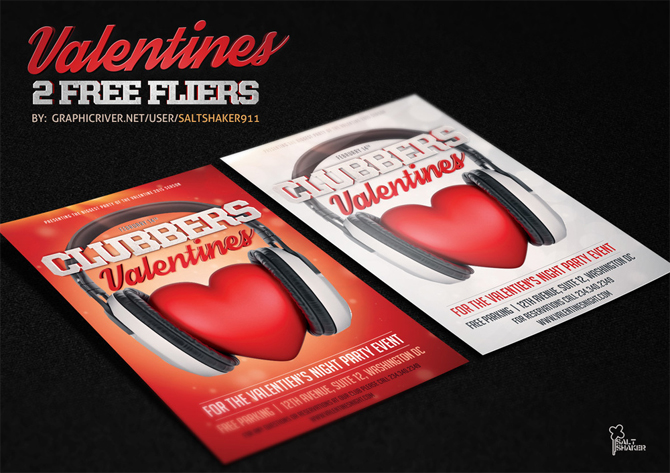 This freebie offers 2 print-ready PSD files, each of which has 4.25" x 6.25" dimensions and 300-dpi CMYK. It's possible to modify the color scheme and text, add and remove objects. In its package, you can also find a help file.
* * *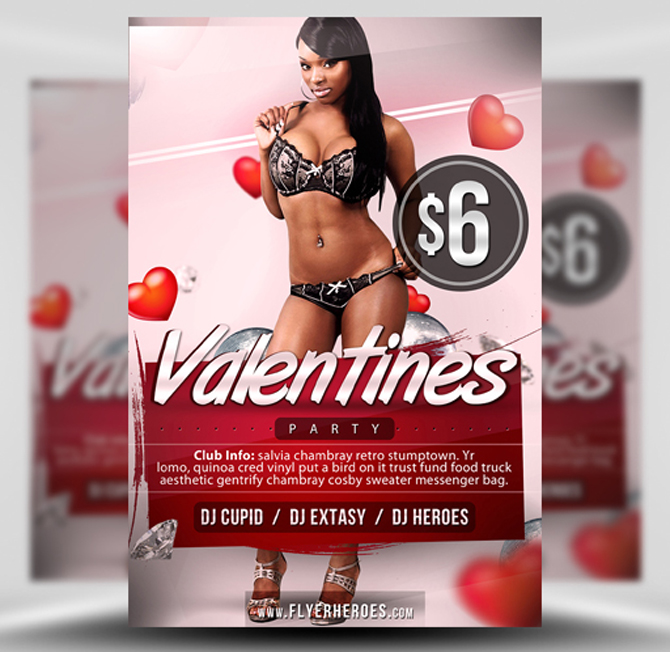 This free, fully editable PSD flyer boasts a visually appealing design with 3D hearts, glitter balls, and pink and red palette. The editable text area is focused in the footer, which provides a lot of empty space to fill with attractive model photos. The template's typography is presented with Artbrush Font and Bebas Neue Font.
* * *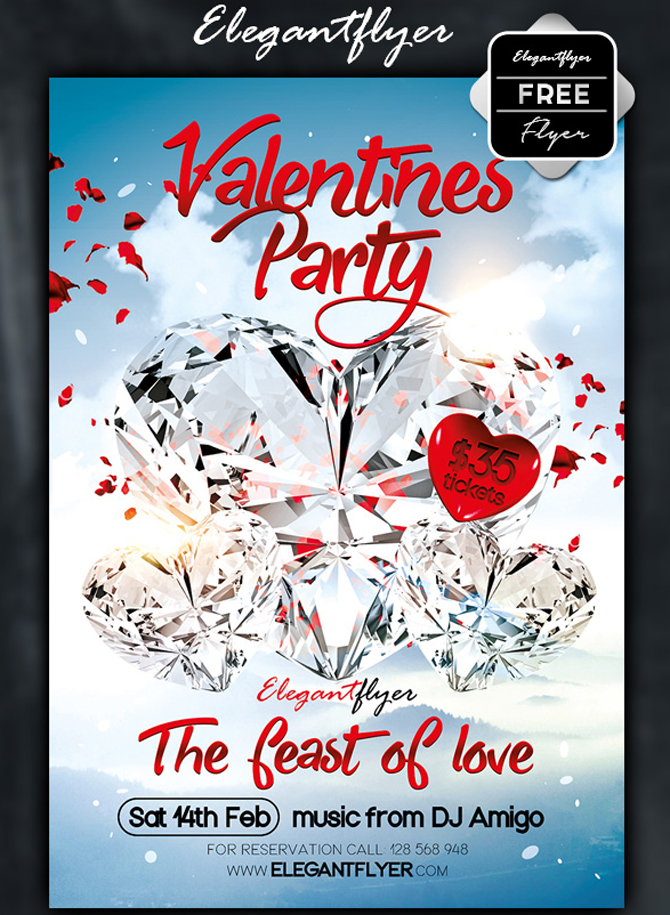 This design is remarkable for faceted diamonds taking a shape of the heart. It features 1275 px x 1875 px dimensions (or 4″ х 6″ with 0,25″ bleed). The text is typed with She Always Walks Alone and Nordica fonts. This Valentine Party flyer is ready for printing straight away, but you can also customize it in Photoshop beforehand if you like. In its free package, you can also find a Facebook cover that can be customized in any desired way.
* * *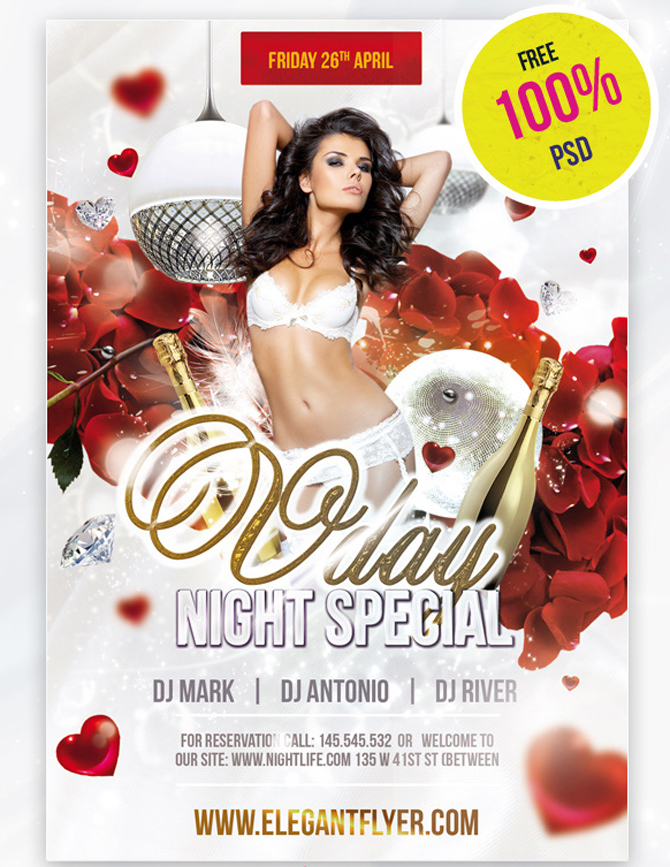 The freebie you see is flavored with all the traditional symbols of Saint Valentine's Day, from glossy hearts to petals of red roses. This fully editable PSD has a simple layer structure and sharp graphics of 1350 px х 1950 px (or 4" х 6" with 0,25" bleed).
* * *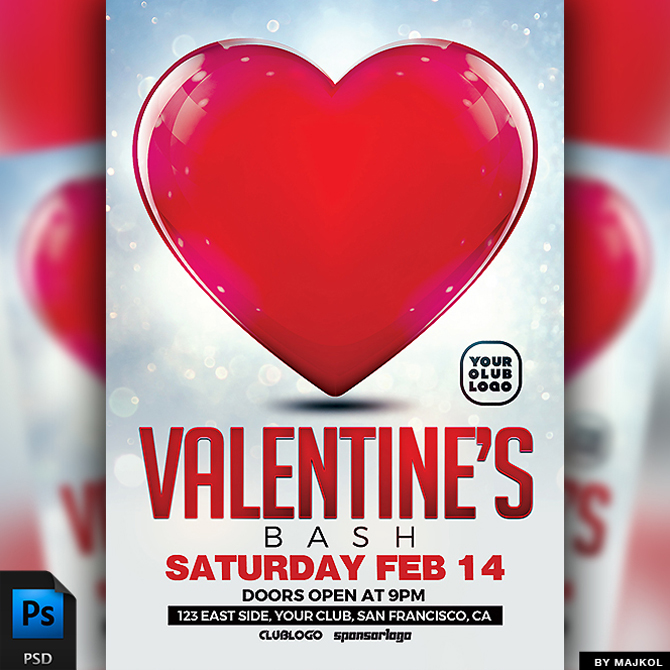 This Valentine's bash flyer template is meant for everyone who prefers minimalist aesthetics. Its main features include a well-layered PSD, 300-dpi CMYK, easily editable text, and 4" x 6" with 0.25" bleed.
* * *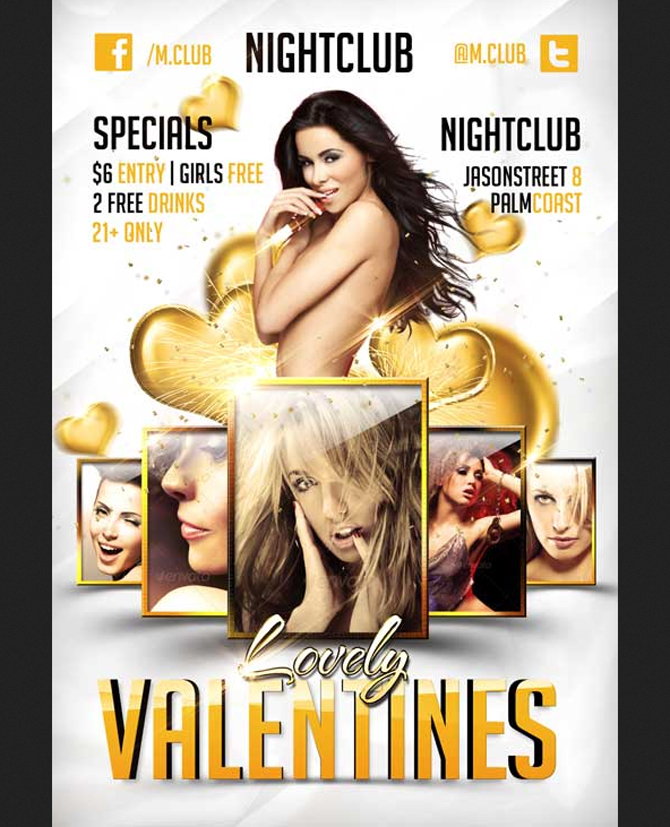 This print-ready template allows you to show more than just one model on your invitation flyer. It includes a print-ready CMYK file of 300 dpi, Pacfico and Big Noodle fonts, customizable elements, and default image that can be replaced via smart object. The template is free for both personal and commercial use.
* * *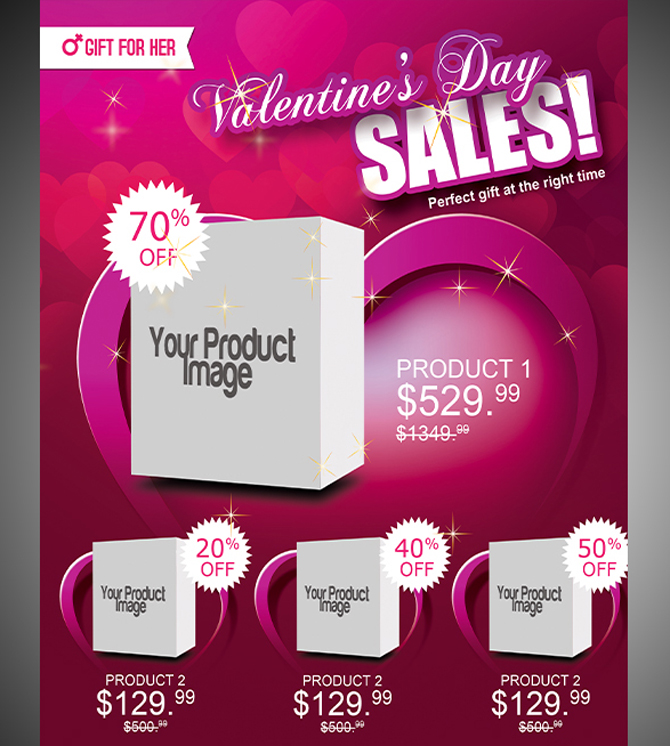 This Valentine's Day Product Ad flyer is designed specifically for promo purposes. With its help, you can spread the word about your discount products or any other special offers with due professionalism.
* * *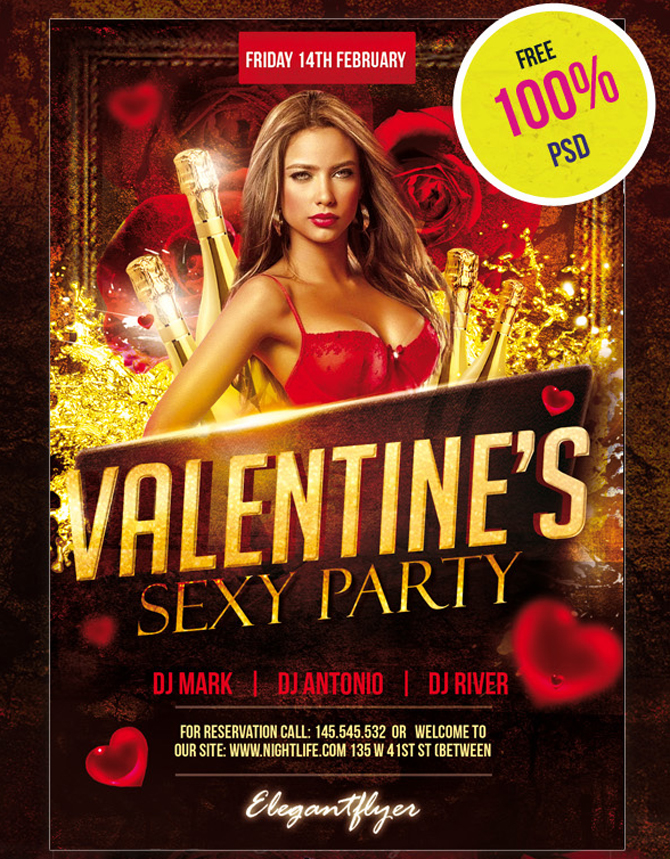 This free PSD flyer is made in symbolic colors of Saint Valentine's Day. The holiday symbols are complemented with golden splashes, adding a luxurious touch to its aesthetics. Any visual content can be customized in line with your personal requirements. Here are the major characteristics of this well-organized freebie: CMYK, 300 dpi, 1350 px x 1950 px (or 4" x 6" with 0.25" bleed).
* * *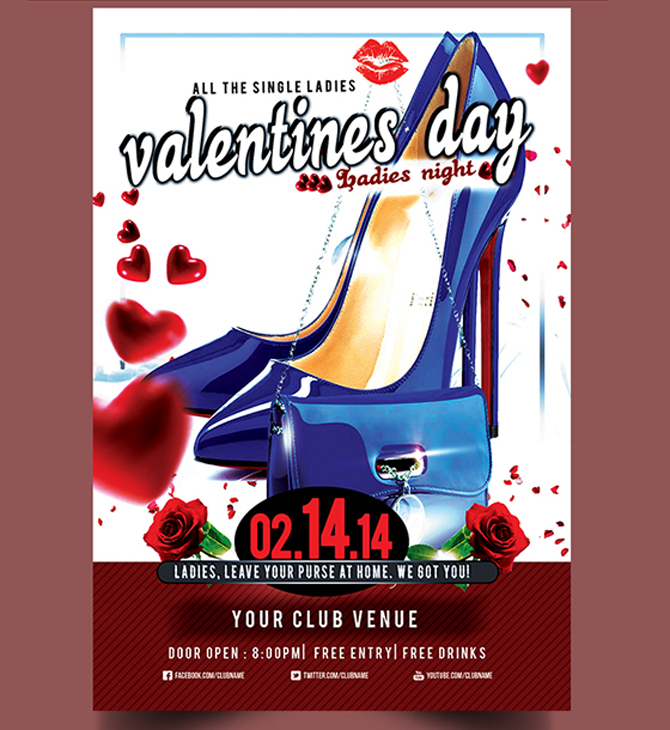 This free Valentine's Day flyer features a fully layered PSD of 4" x 6" with bleed. Its 300-dpi CMYK file is ready for printing.
* * *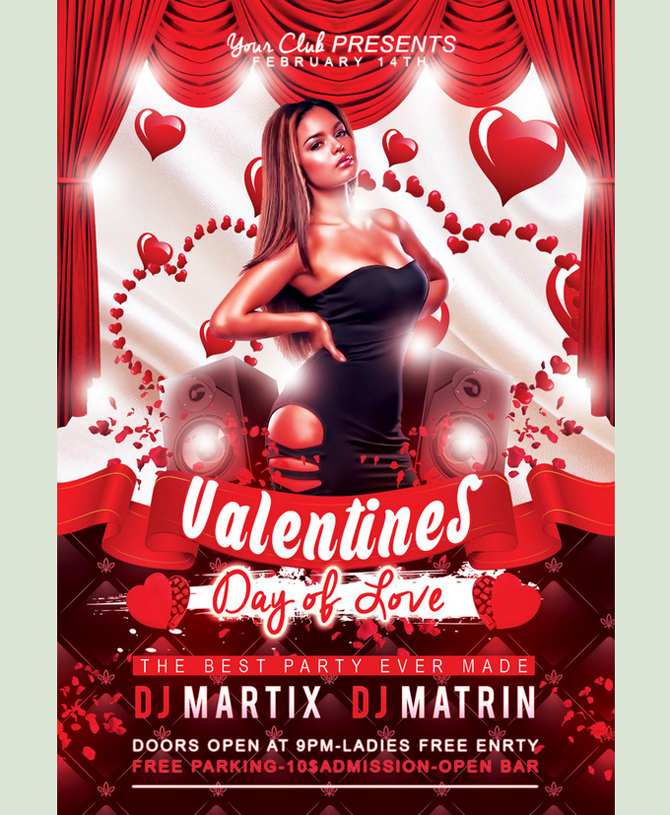 This Valentine's Day Flyer has the following features: 4.25" x 6.25" with 0.25" bleed, 300 dpi, CMYK, editable text, and well-organized layers. The template's package also contains instructions on how to install fonts, add your own model, and resize its image.
* * *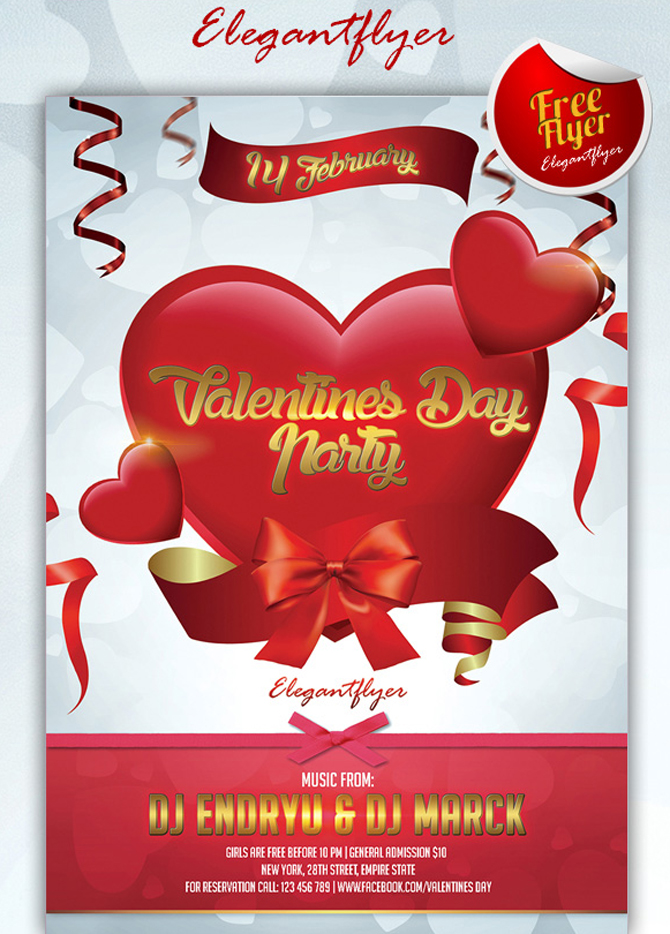 Give a try to this high-resolution flyer of 1275 px x 1875 px (4" х 6" with 0,25" bleed). You can easily edit the content imagery, objects, palette and text typed with La Chatte a Maman and Big Noodle Titling fonts. To make things right, use a help file from its package.
* * *
Here is a smart solution to attract attention to your Saint Valentine's club party. Designed in bright neon colors, this PSD flyer template depicts a hot model, bottles of champagne, and blue roses that blend well with the rest of the design.
* * *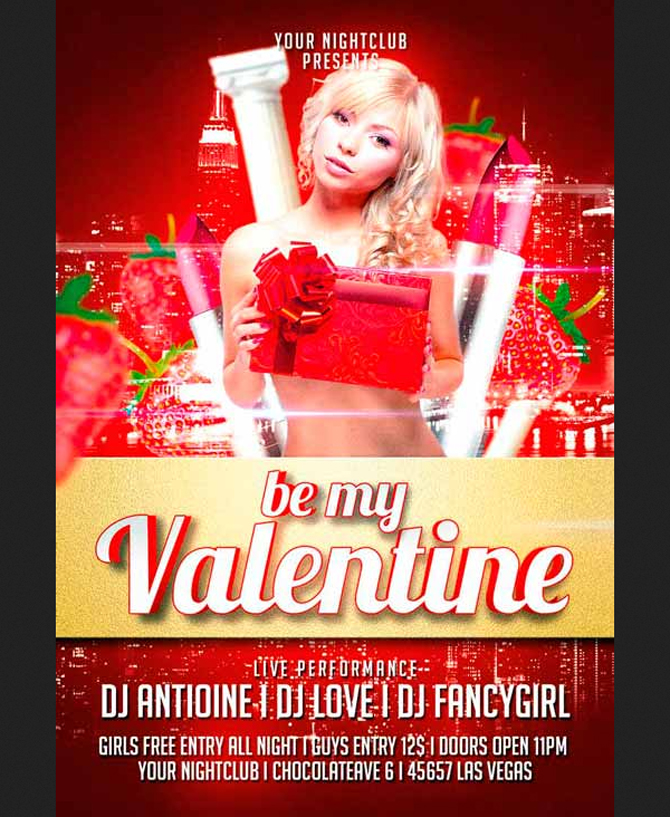 This ready-to-print freebie contains a 300-dpi CMYK file, fully editable elements, and Lobster and Big Noodle fonts. You can use this flyer for free regardless of the purpose, be it a commercial or personal one.
* * *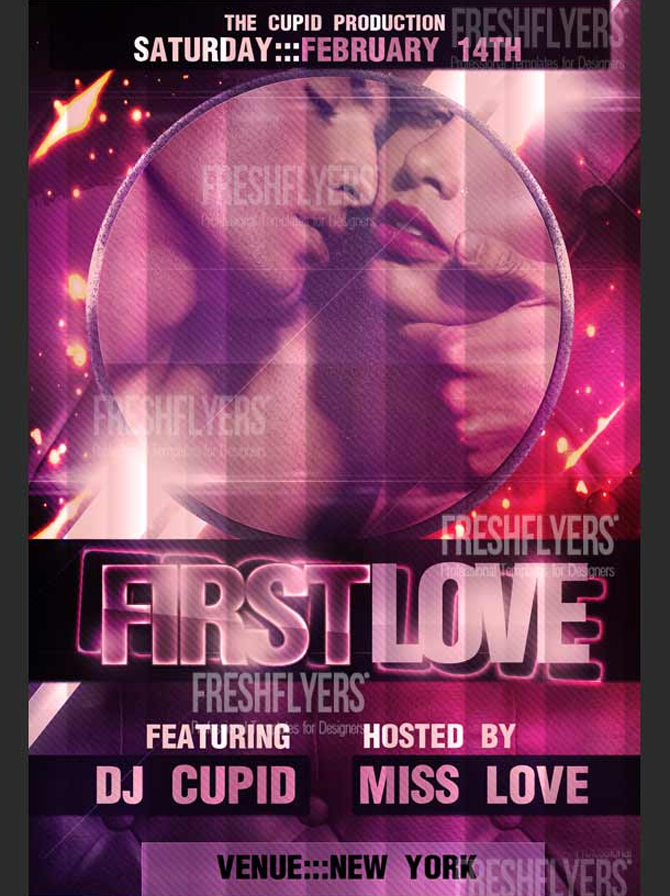 Here is the last template from our hand-picked set of free Valentine's Day PSD flyers. This design boasts a harmonic blend of colors, image of a passionate couple in love and stylish typography. The file dimensions are 4.25" x 6.25".
* * *
So, have you found the right design for your Saint Valentine's Day party invitation? Which one of these freebies caught your fancy? Feel free to share your likes and dislikes in the comments below, please.