Formerly, admin panels had the same look and served only for functional needs. But the world moves on, and so does the sphere of technology. Today, it's possible to swap a standard admin interface for a visually appealing, functionally powerful and structurally thought-out alternative. Not long ago, TemplateMonster released a cool Bootstrap admin template to help developers build stylish and user-friendly dashboards with ease. Read on to find out what this innovative product offers to users.
First of all, let's dig into the core of this admin template. Built with HTML5 and CSS3, it features a clean and valid code that can optimize your website loading times in all the modern browsers. Integration with Bootstrap 3 provides a responsive grid making the dashboard accessible on different devices. To extend CSS properties of your site, the template also makes use of LESS.
Now, take a closer look at what's inside the package of this Bootstrap admin template.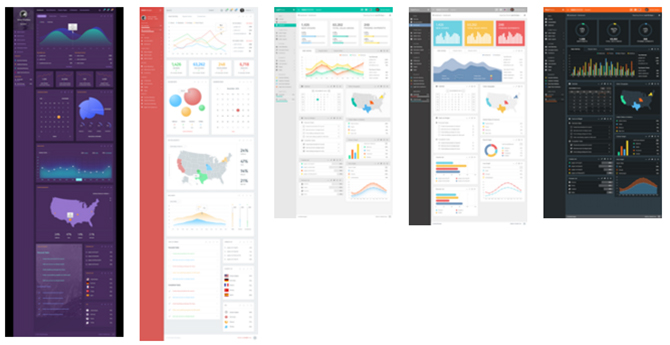 To design your admin panel, you can choose from 5 different themes, e.g. black, light, and others. Check a preview of them below.
* * *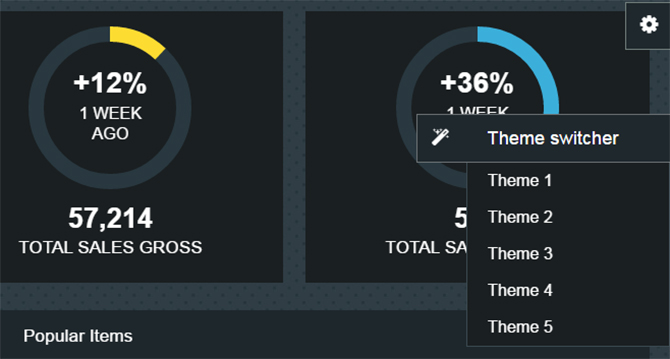 You can switch between the themes with a single click. It's possible due to a built-in switcher on the right.
* * *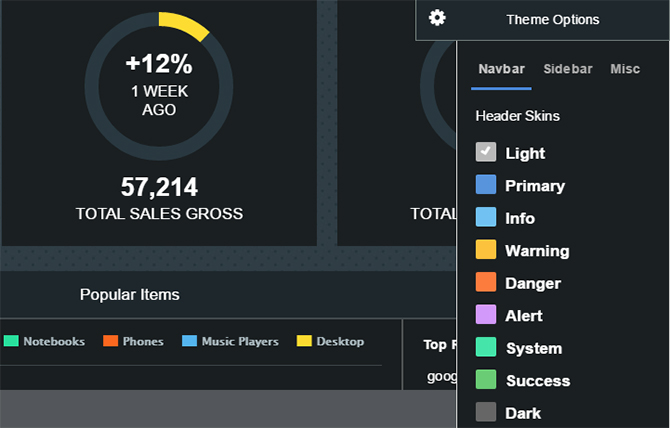 A theme options panel allows you to change header, sidebar and layout styles by pointing and clicking.
* * *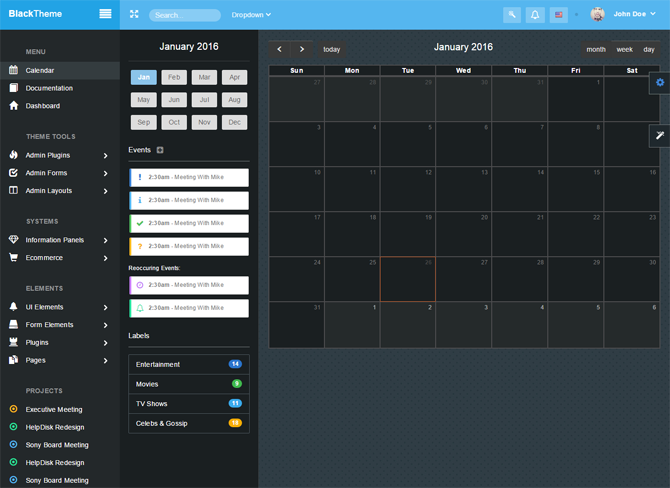 The template features a calendar section, where you can find a month switcher, block with scheduled events, and the calendar itself. The latter can be switched by the month, week and day.
* * *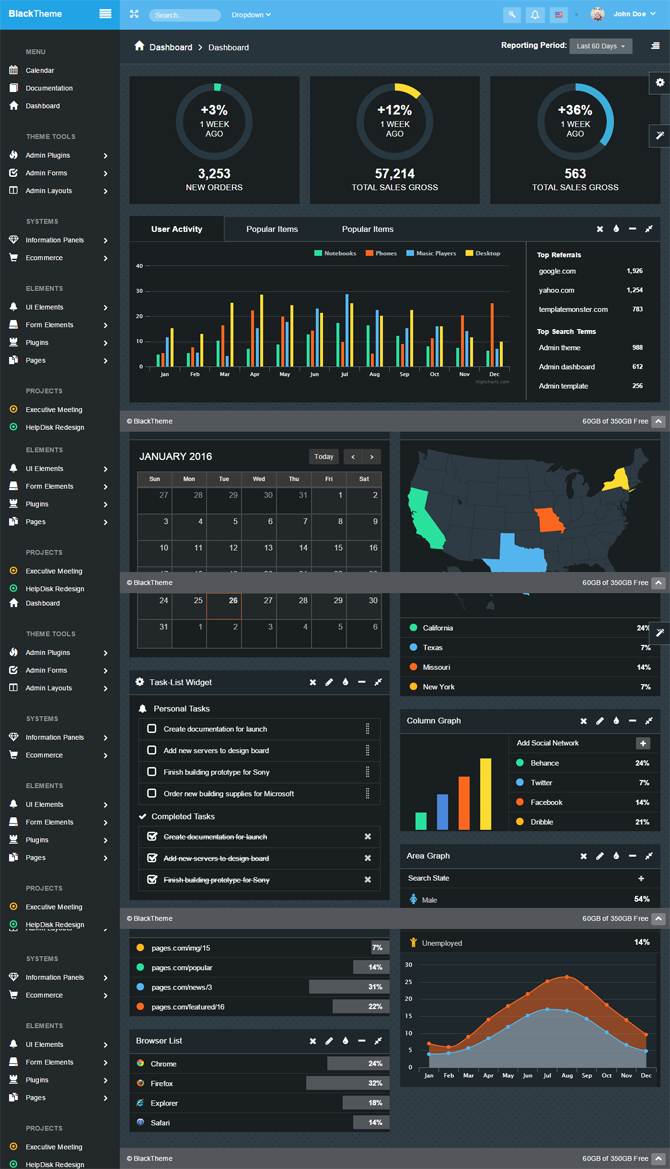 In the dashboard section, you can see multiple elements in action. They include map of visitors' geo location, task list widget, column and area graphs, crawler and browser lists, etc.
* * *
Admin Plugins
This section is divided into 3 subsections, particularly Admin Panels, Admin Modals and Admin Dock.
In the subsection of Admin Panels, there is a visual editor to style different elements, e.g. colors, titles, filters, etc.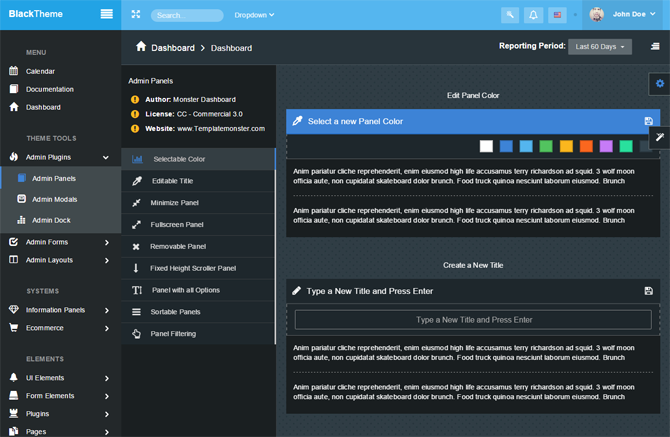 * * *
The subsection of Admin Modals is packed with smooth CSS3 animations. It means you can spice any modal content with special effects such as flipping, zooming, rotation, sliding, and others.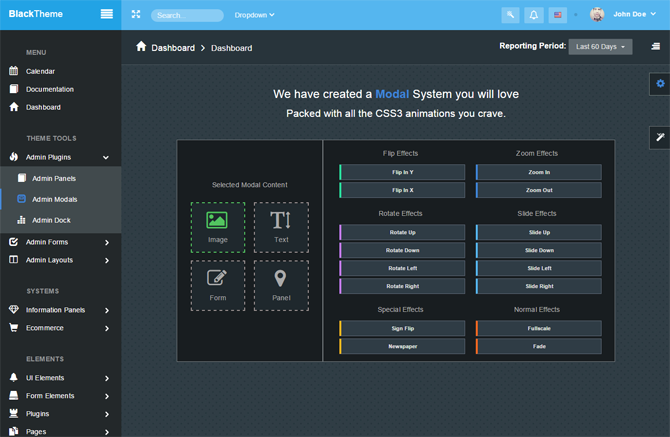 * * *
Here's the Admin Dock subsection. Choose any modal content from text, image, form, table, video and panel, and press the green button.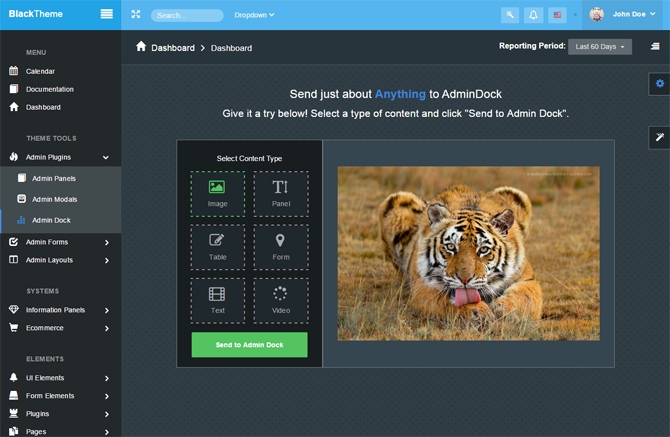 * * *
Admin Forms
The section is divided into 5 subsections such as Admin Elements, Admin Widgets, Admin Layouts, Admin Wizard, and Admin Validation.
To check all the form elements included to the template, go to the Admin Elements subsection.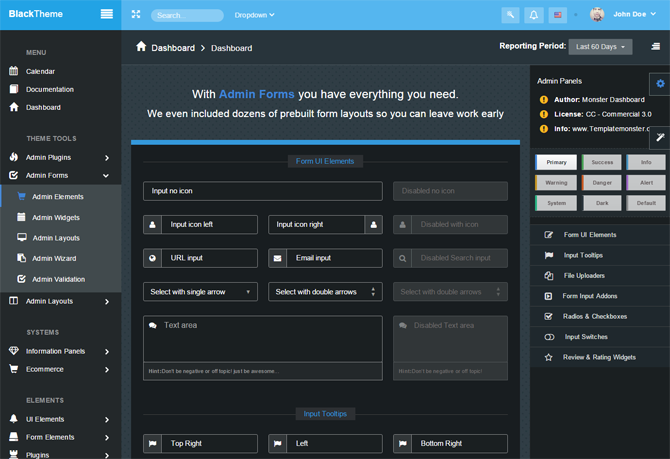 * * *
In the Admin Widgets subsection, you can find a set of widget skins facilitating the process of form creation.
* * *
The Admin Layouts subsection gives an access to 15 pre-designed forms. Keep in mind that the number of forms will grow regularly.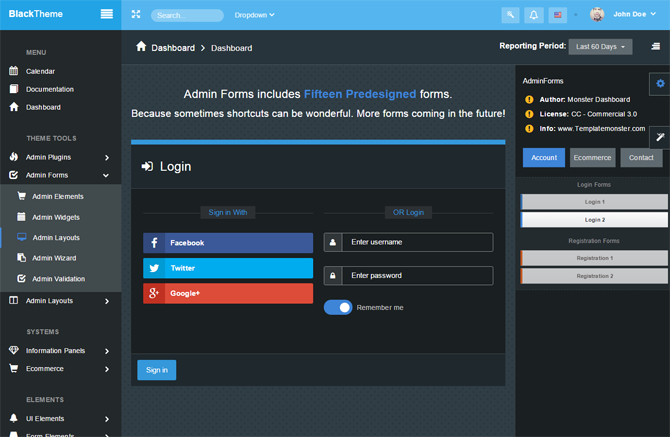 * * *
The Admin Wizard allows you to mix and match settings as well as build a new form much quicker.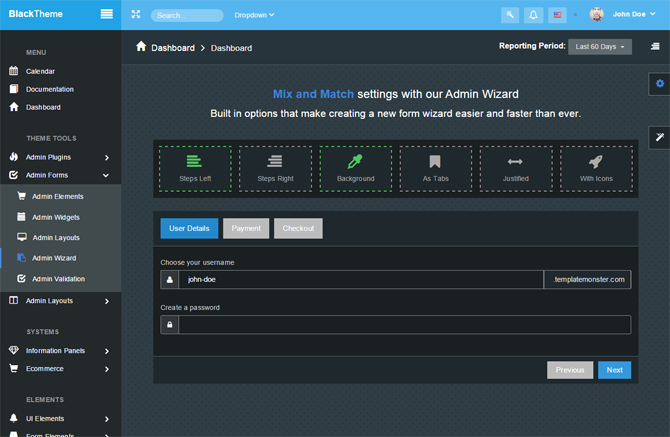 * * *
In the Admin Validation subsection, you can easily create a validation field for your web form.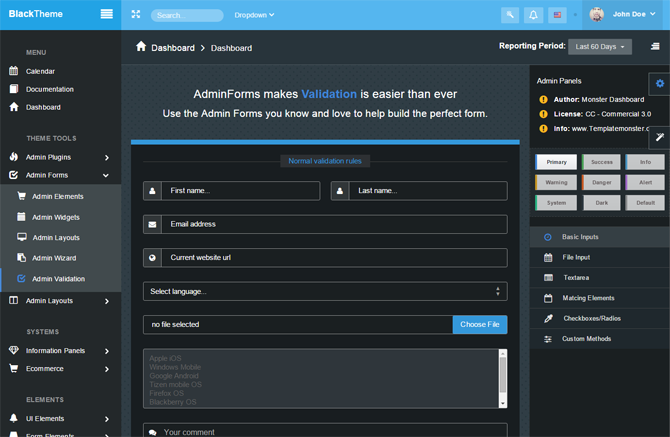 * * *


Here, you can turn on and off all the layouts built into the template. The section is divided into sidebars, navbar, topbar, content body, content trays, boxed layout, and horizontal menu.
* * *
Information Panels
In this section, you can use all the informational panels available in this template. They include tile, panel, scroller, and admin widgets.
There are 7 sets of tile widgets, each of which is presented with 3-4 varieties.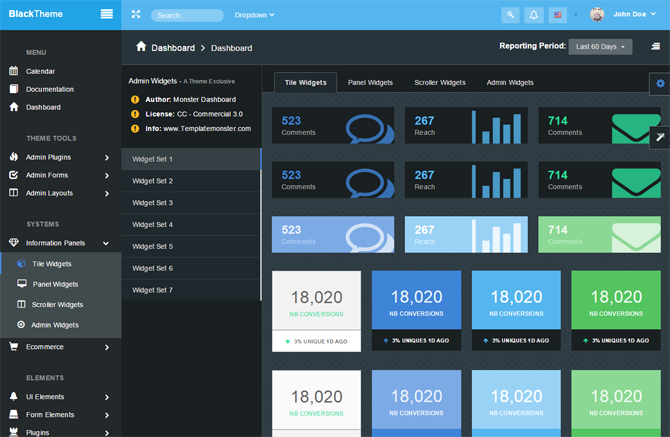 * * *
Here, you can find 8 types of panel widgets. They are as follows: calendar, task list, chat, timeline, compose, quick compose, utility, and user index widgets.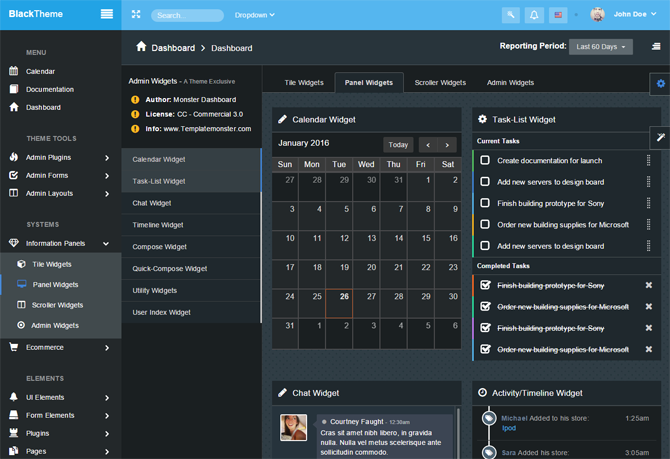 * * *
Scroller widgets are divided into smallest, small, medium, large, on-hover panel, contextual, and alternate style scrollers.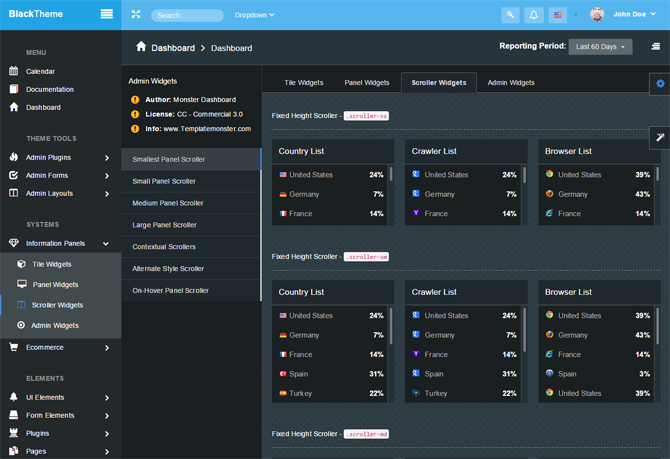 * * *
There are 2 types of admin widgets such as small data and full-width data widgets.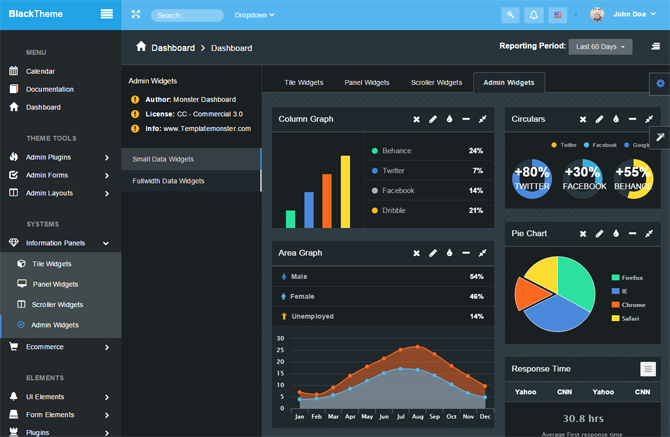 * * *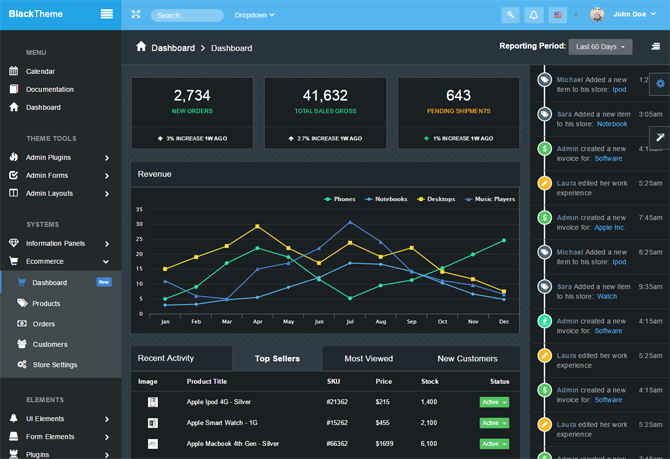 This Bootstrap template can serve the needs of online retailers, as it comes with an eCommerce admin panel. It is subdivided into the dashboard, products, orders, customers and store settings.
* * *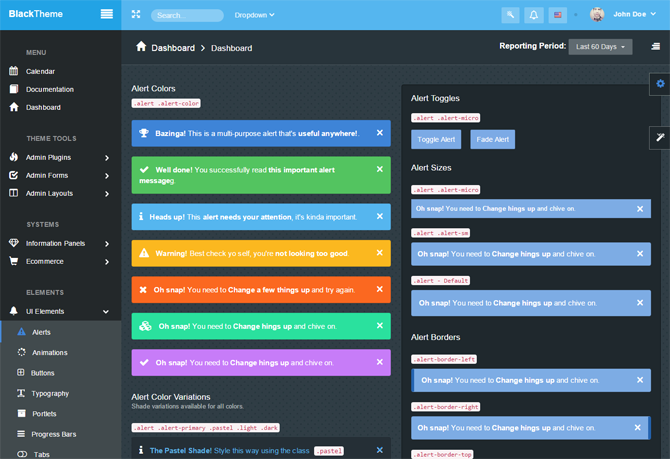 You can use a wide range of UI elements, from alerts, portlets and animations to tabs, icons, and progress bars.
* * *
Here we are. It was just a brief overview of the first Bootstrap admin template released by TemplateMonster. If you want to find out more details, visit its main page and demo.
What do you think about the template's functionality? Are you going to give it a try? Feel free to share your feedback in the section of comments to this post.