As you may remember, TemplateMonster depicted the evolution of web design on an interactive Infographic not long ago. Since it had won the recognition of many individuals from the web design community, the company implemented this idea in another project. TM professionals created an exclusive card deck guiding through web design trends over the last 12 years, namely from 2004 to 2015. Read on to find out what is so remarkable about this new gimmick.
In the deck, there are 52 playing cards that are both entertaining and informative in their nature. At the front, each of them provides a visually appealing illustration of one trend, which is complemented with the year of its emergence and concise description. At the back, all the cards are flavored with notes of material design. This hot trend of today is also applied to the box they come packed in. The cards can be used not only to play games, but also as a creative souvenir for someone related to web design, gambling, magic tricks, or any other things that cross your mind. To take a closer look at them, click here and here.
If you got enthusiastic about obtaining this card deck, we have good news for you. From 26 May to 2 June, TemplateMonster gives an easy quiz on the history of web design, and those who pass it successfully will have an opportunity to win the card deck. To take part in the quiz, follow two easy steps listed below.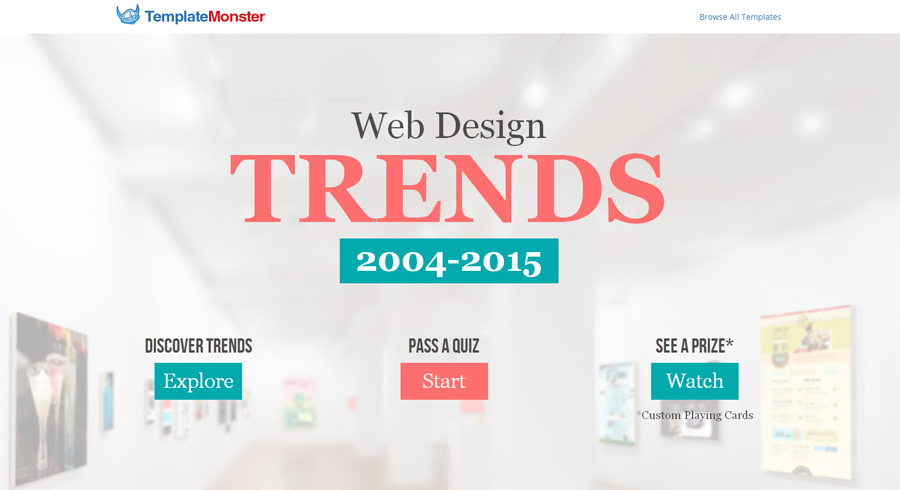 1. Go to the Infographic page and answer 7 simple questions. Then, you will get an email with a badge of "Web Design Guru" and automatically become a candidate for winning the deck of cards.
Don't be afraid of making a mistake, as you can start the quiz again and again until you give correct answers. To accelerate the process, look for tips in the Infographic!
2. Log in to your social accounts on Facebook, Twitter and Google+ and share the badge there. It will let you increase the probability of winning the card deck.
TemplateMonster randomly picks one winner every day of the weekly quiz. In the end, there will be 7 card deck owners, who will be get contacted via email or social networks from June 3 to June 10.
Keep in mind, if you don't reply to the letter telling you about your winning, another candidate will receive your prize. So, make sure you check your email box and social accounts regularly during the mentioned period. The company will also reveal the list of winners in its official profiles on Facebook, Twitter and Google+.
We hope the fortune will be on your side and the lucky number of 777 (7 questions, 7 days, 7 winners) will make you an owner of that exclusive card deck.