Hi, designer? Are you always searching for some cool stuff you can work with and use in your web projects? The good news is that you may stop your search because TemplateMonster has released a solution that will meet all your needs. It's called ONE by TemplateMonster, and it features everything that you need to make your web designs merely looks terrific.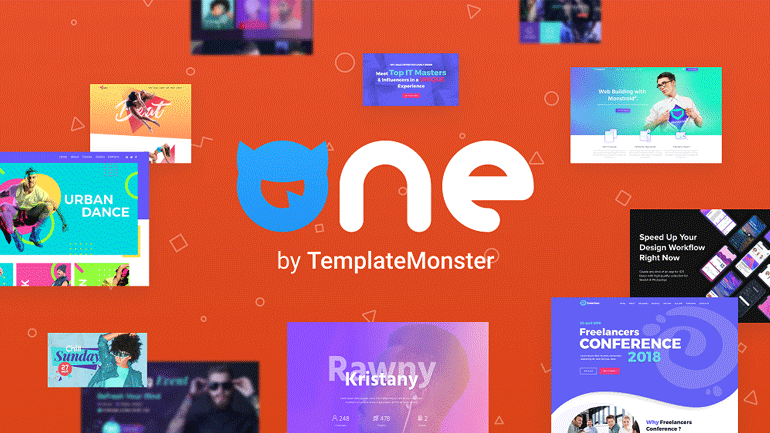 What's ONE?
ONE is the ultimate collection of web design assets that web designers, web developers, online marketing specialists, and everyone else related to the web design industry use regularly. It's an affordable and usable solution for everyone who doesn't want to waste time and money searching for high-quality web design assets on the web. Subscribing to the service, you get all that you need gathered together in one place. Use advanced search and built-in filters to come across the necessary items and download them with a single click.
ONE features a collection of more than 31000 premium-quality products matching all topics and purposes. When you browse the collection of digital items that ONE contains, you will come across a wide choice of web themes, plugins, extensions, graphics, presentation templates, audio files, and digital assets. The subscription service includes digital products compatible will the most popular software, CMS, and eCommerce platforms.
The collection of items included in the ONE by TemplateMonster keeps on growing all the time. Hundreds of new web design items are released monthly. Subscribing to ONE, you get more than what you pay for.

Get Unlimited Access to 31k+ Items
ONE by TemplateMonster offers one of the biggest collections of digital assets that have been ever released on the web. It contains web themes that smoothly run on all the major CMS and eCommerce tyles, including WordPress, WooCommerce, Shopify, VirtueMart, Magento, PrestaShop, etc. The gallery also includes a growing number of plugins that you may feel free to download to make your web designs more robust and usable. ONE also features multiple types of graphics, which let you add a unique vibe to your works. There are also many presentations and social media templates that online marketing specialists will enjoy working with. It also contains graphics, illustrations, mockups, patterns, presentation templates, audio, and video files.
If you take a closer look at the products included in ONE, you will notice many best-sellers from the TemplateMonster digital marketplace. Thus, ONE offers unlimited downloads of Monstroid2 WordPress theme, WooStroid2 WooCommerce theme, Intense HTML theme, Eveprest PrestaShop theme, Multifly Shopify theme, Magetique Magento theme, StoreFlex OpenCart theme, etc. There is also a growing selection of digital assets that authors upload to ONE by TemplateMonster exclusively.
The best thing about the subscription service is that all items are available under the Developer License, which means they can be downloaded an unlimited number of times and used on as many projects and domains as you wish.
What's the Price?
ONE by TemplateMosnter is suited for personal, business, and commercial purposes. You may feel free to keep on downloading web design assets from the collection as long as you have a valid subscription. Besides a wide choice of products, you will also get premium-quality 24/7 support and regular updates for the products you get from ONE. According to the Author Agreement rules, everyone who adds their digital assets to ONE is due to keep their items always up-to-date and deliver qualified support in any client issues.
When your subscription expires, you cannot download items from ONE any longer. However, the good news is that all digital assets you have already downloaded will continue receiving free updates. You shouldn't worry that a website will stop working if you create it with a web theme from ONE. Everything will be up and running for as long as you need it.
The service includes both free and premium web design assets. So, there are free and premium subscription plans available.
If you are interested in freebies, the free-all-items plan will come in handy for you. It includes only free web designs featured in the ONE Membership. At the moment, there are about 200 free items in such categories as graphics, presentation templates, WordPress & HTML themes, audio & video assets. The free subscription doesn't cost you anything. Yet, it doesn't let you download premium web design assets either.
If you are looking for premium web design assets, ONE lets you choose from three premium subscriptions:
Creative – worth $82/year – the ultimate choice for creative graphic designers working with graphic and design assets, presentation, audio, and video files.
All-in-one – $179/year – the best choice for web designers and web developers looking for high-quality web themes suited for multiple web platforms and CMS projects.
All-in-one lifetime – $599 – provides you with unlimited lifetime access to the growing collection of items included in the ONE.
Why Join?
Subscribing to the service, you get all that you need for website building and even more. As we've already mentioned, the choice of web design assets keeps on expanding all the time. Many authors join and start uploading their digital assets to the collection. ONE contains the most impressive selection of products that will please the pickiest client.
Choosing ONE, you are never left alone. You may always rely on professional support from the authors of themes you download from the subscription service. The qualified assistance is delivered via a ticket system built-in your account.
Besides professional support, ONE offers regular free updates for all items from the gallery. Whenever you build a website with a web theme from ONE or install a plugin from the subscription, you may feel confident that you will always use up-to-date software and designs matching the latest web requirements.
ONE also lets you order extra web development services at an additional fee. The offer will come in handy to you when you need to get a specific piece of work completed within the shortest time and get the required results straight away. The services range from server maintenance and SEO improvement to your site's selected products or elements' customization.
ONE offers free cancellation for those customers who do not find the needed products in the subscription and do not download anything14 days from the moment you paid for the service.
Besides subscribing to ONE and enjoying unlimited downloads of all its items, you can also start making money with the TemplateMosnter affiliate program. By promoting ONE among your social media followers and friends, you can earn a 30% share from the first unique sales that your leads make and 10% from every order placed by a returning user. As part of the affiliate program, you can promote both retail items from the TemplateMosnter marketplace and the subscription plans to ONE. The latter, by the way, will bring you higher earnings and affiliate fees.
Bottom line
ONE is a must-try service for every webmaster. It provides a fantastic selection of web design assets that will please the most refined taste. Thanks to the regular updates, reliable support, and an ever-growing selection of web design assets, with ONE you get more than what you pay for. Subscribe now to see it for yourself.