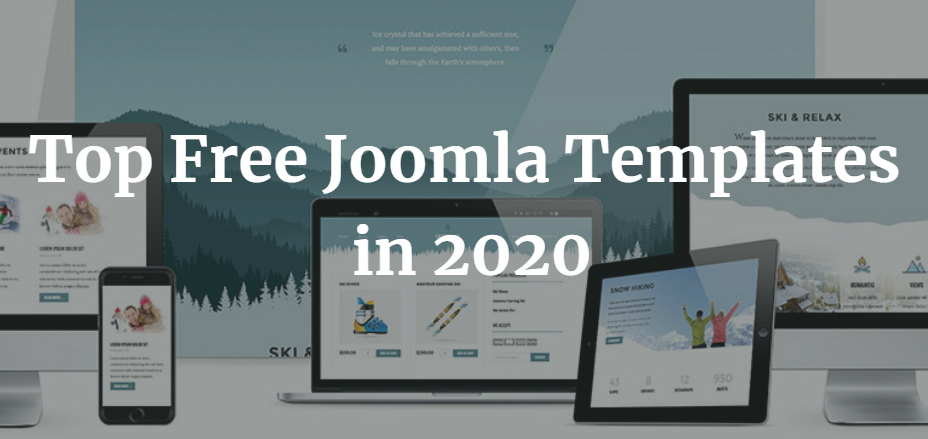 When setting up a new site, there are many factors you should consider, such as design, domain name, etc. But the most important is to find the right web engine for your website. It is crucial and must be taken seriously. Its selection must take into account cost, time, quality, flexibility and degree of control. Joomla CMS is used by millions of companies around the world, including respected business corporations, and it meets all these needs. It is called Joomla. In this article we also show you few top free Joomla templates avalaible in 2020.
The debate about what 's best, like Joomla WordPress has been going on for too long. Here are a few reasons for choosing a Joomla CMS:
It employs 4.5% of sites worldwide. Despite the apparent insignificance of this number, this is a pretty solid indicator. A new web resource on this engine is created every three seconds.
Joomla has over 10,000 extensions. It opens up unlimited possibilities for creating an amazing website.
The most famous companies, organizations and people in the world work with this platform. Among them are Pizza Hut, the government of Greece and Great Britain, MTV, McDonald's. Leonardo DiCaprio also uses Joomla. Many other Hollywood stars followed suit.
Simple and convenient admin panel. If you have never dealt with CMS before, then with Joomla you will figure it out very quickly.
Flexible design. If necessary, make changes to the appearance of the site created on Joomla its contents will not be affected. The mechanism for quickly replacing the appearance of pages allows you to use various options for their design.
Joomla is a free content management system. Writing your own engine requires certain financial costs. Therefore, choosing it, you can reduce the final price of the project.
Stability – Joomla has the largest community of developers and users among the CMS. The engine is constantly updated, thereby ensuring the relevance of the project.
Multilingual CMS – In a globalized world, nowadays businesses are looking for customers beyond the local countries. On Joomla, you can build a multilingual website much faster and easier. You can also create sites in any language, thanks to the support of multilingualism. The possibilities are endless.
Here below we will show you few top free Joomla templates in 2020 available on the market, and we will describe their features.
JF Simone
We present you JF Simone, one of the best free Joomla templates from JoomForest. First of all, you get the Gantry 5 framework, which allows you to create your dream website with drag and drop layout builder. Yes, you are spared the dirty waters of the code world. That's all you build is 100% responsive! And to think that we are just starting. With over 10 pre-made and fully customizable demos, 11 content particles/modules, advanced design options, and custom CSS, the only thing that holds you back is the technology itself. Folks at JoomForest are very generous. They created a premium quality Joomla template that they provided for free to use. You no longer have to bother with complex Joomla templates, this locomotive packs all the juice you need to start websites that are from this, or any other, world. That's right, we're talking about creating dazzling sites without touching a line of code.

JF Connecto
As JF Connecto shows, the one-page free Joomla template is perfect for any type of website. This template is the tool you were looking for if you're all about awesome user experience. By the way, if you did not know, the selected template affects the user's experience on your site, either positively or negatively. That is why you should be careful with the Joomla templates and extensions that you install on your site. Brought by JoomForest, this template packs serious heat in the name of lots of demos, parallax, lots of short tracks, 100% responsive layout, as well as an SEO-ready installation among other cool features.
JF Corporate
The beauty of full-color, this is the embodiment of full-screen imagery. The main con in creating a responsive Joomla website for mobile or tablet devices is the task of adapting the full-color experience. Many Joomla templates cannot do this. A responsive template means that JF Corporate scales well on any device without losing visual appeal. Number two, this free Joomla template comes with a ton of useful tools and options specially designed to create a professional website. Beautiful sliders, dozen ready-made demos and all kinds of layouts, carousels, CSS3 animations, and among other features, to create any type of website under the sun not only a reality but also incredibly simple.
JF Business
Joomla multipurpose free templates seem to be gaining in popularity. Perhaps these are the many features with which such patterns come. Perhaps this is the fact that many multi-purpose business Joomla templates, such as JF Business, allow you to achieve exactly what you have in mind. The most customizable template on the market, it is suitable for businesses, corporations, finances, freelancers, agencies and huge enterprises thanks to features such as 10+ template options, a rich design library with ready-to-use demos, a design wizard for custom designs, a Gantry framework builder, customizable backgrounds, logos, unlimited colors, fonts, user-friendly SEO code and more.