Today we want to offer you a showcase of 10 modern, attractive and easy on the eyes Responsive PrestaShop Themes by TemplateMonster.
PrestaShop is an open-source eCommerce free software for web 2.0. It is an ideal solution if you are going to create a fully-functional e-shop. The designs we selected and gathered are worth to be singled out as they have well thought-out compositions, clear layouts with no useless details and nice color schemes.
If you have seriously thought about a cool e-shop creation, then you have already faced with the problem of website reflection on various screens. Present variety of screen resolutions which was caused by multitude mobile apps appearance could be a problem in case you have no mobile version of the website. Or you can just choose a responsive layout for your website creation – that is the layout which can easily adapt to any screen resolution with no harm to your design composition and content.
The templates below combine all necessary features to become a prosperous website. They are easy to setup, configure, and update. Take a look and choose the most appropriate for your business. Stop hesitating, these templates are your step towards success.
This theme immediately charms with its eye candy color scheme. The composition of the template is associated with a cosy home where you can hide from everyday fuss. The whole layout is well structured and you can quickly find the needed information. If you are going to impress your potential clients, lest there be any doubt, such charming layout of a curtains store will perfectly fulfil the task.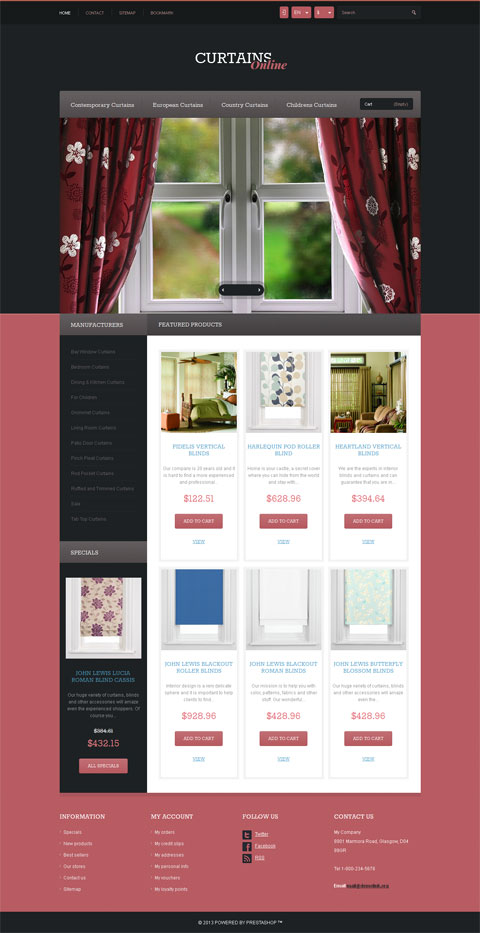 * * *
Stylish and modern – that is the layout of the eyeware store we propose you to pay your attention at. The layout is clear and every design element has its practical meaning. The eyes of your clients will enjoy the comfort they will get thanks to the bought products as well as the attractive usability of your website.
* * *
A nice green template which has a perfect color pallet for a flower store. You can also observe zigzag borders elements and texture usage. Nice fonts and big eye-catching slier make this theme a special one.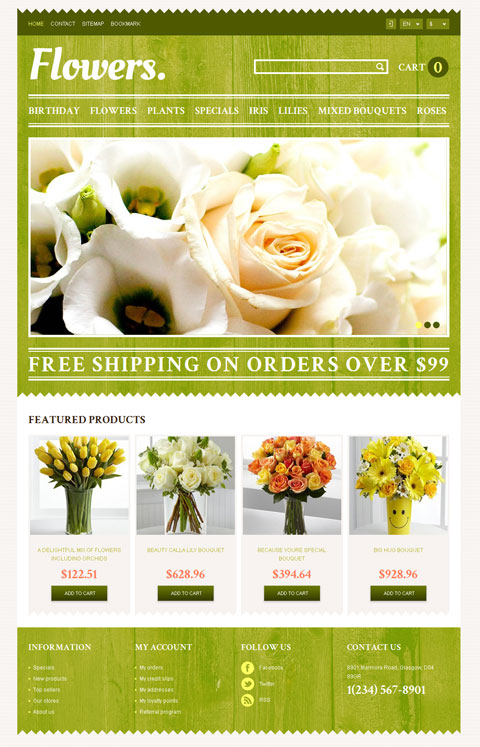 * * *
This layout is enriched with bright sappy colors. It has rather unusual header solution, some texture usage and cool fonts. This PrestaShop theme easily stands from the rest. The whole design is an ideal one for a spicy store. Colors, shapes, nice hover effects – all elements make you sure that it is the very store you are looking for to lace your dish.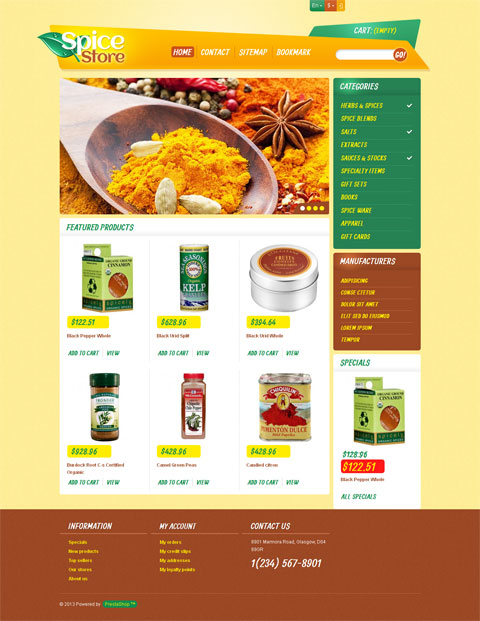 * * *
This template demonstrates not only a pretty design, but a user-friendly layout. Just take a glance how easy it is to find the needed product. Besides, the category Featured Products has a great hover effect – you can see how this or that dress looks from different sides.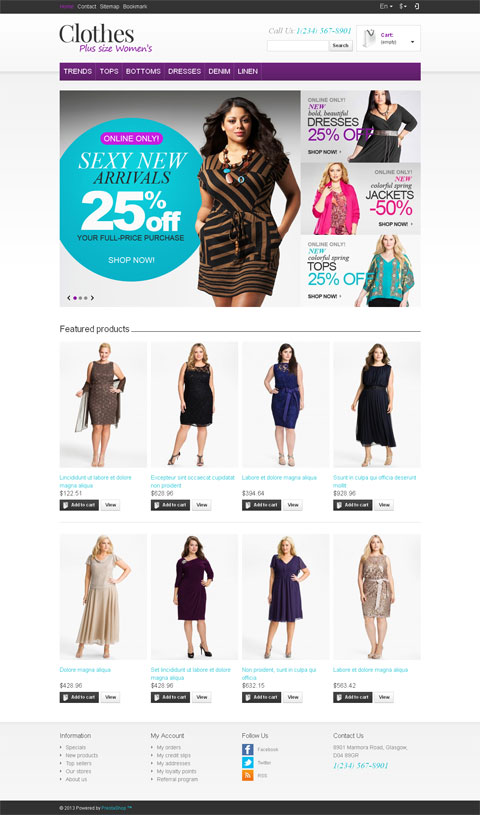 * * *
Charming wedding store theme is at your disposal. Pure and clear layout with top horizontal bar navigation, hover effects, dotted lines to create some visual borders (thus simplifying perception), and a big slider with some textual description. It is a very attractive template which can become a popular wedding store.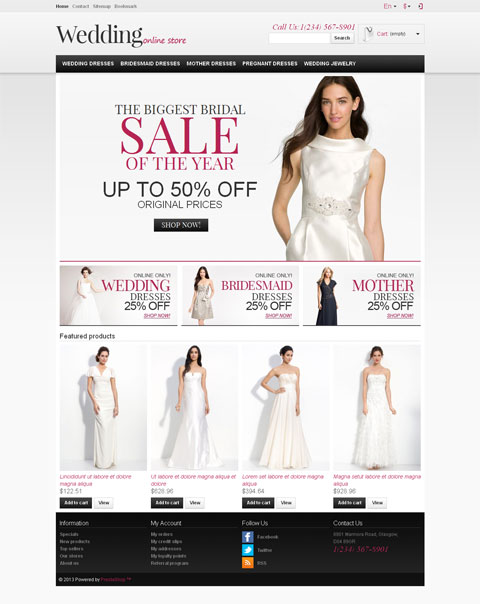 * * *
Would you like to create a ticket store? This PrestaShop template will help you do it with just a few clicks. It has a well thought-out structure, big slider with visual depth,search form so your clients will find the needed information fast, and social icons as today social networks play one of the most important roles. Just get the theme and start your project right away.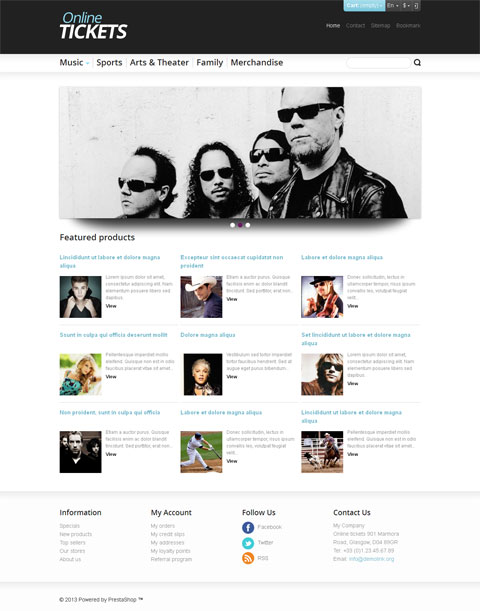 * * *
This template attracts with its clear style and absence of useless design elements. Nice hover effects make the layout more vivid. The search function will save the time of potential clients as they can immediately find the needed products or information.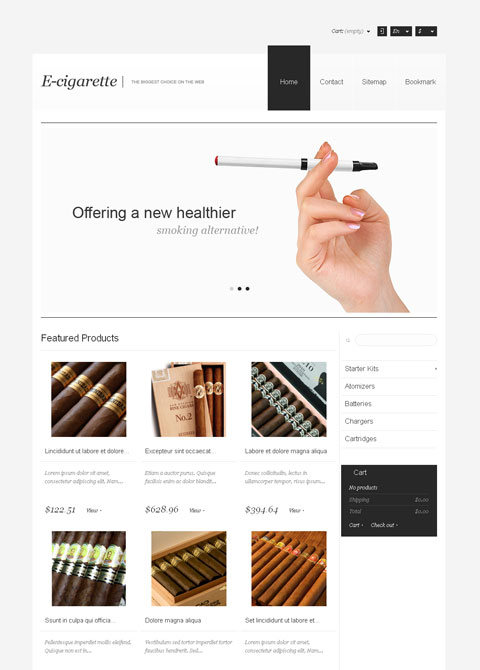 * * *
If you are going to start an online beverage store, we have what to offer you. This nice template will help you present your products in the most suitable manner. Nice hover effects, recognizable shopping cart icon, search function – very user-friendly and cute PrestaShop theme.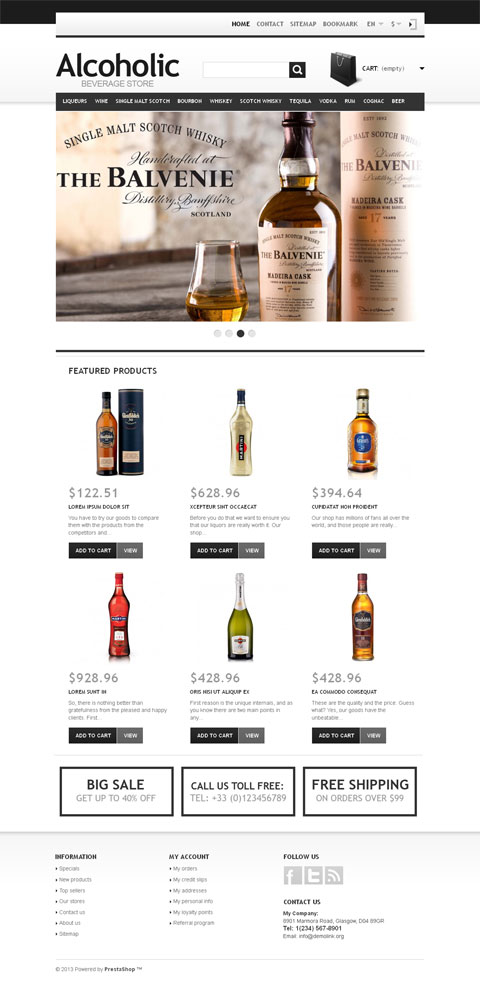 * * *
Good perfumes are worth of a good representation. The template will be an ideal one for the task. Minimal, clear and refined it creates a visual reflection of perfume aura which can't leave indifferent and awakes only positive emotions.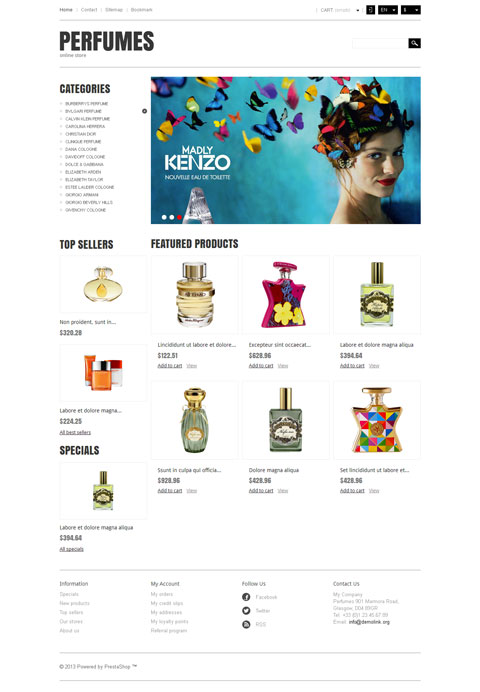 * * *