There is a simple way to maximize your projects, you only need to use these WordPress solutions. No catch here.
Using a multipurpose WordPress theme will help you get more traffic, leads, and sales. Some plugins will also help you with that, including making your website rank higher in search engines.
I also included services that are related to your WordPress website and which will supercharge it.
Here it goes.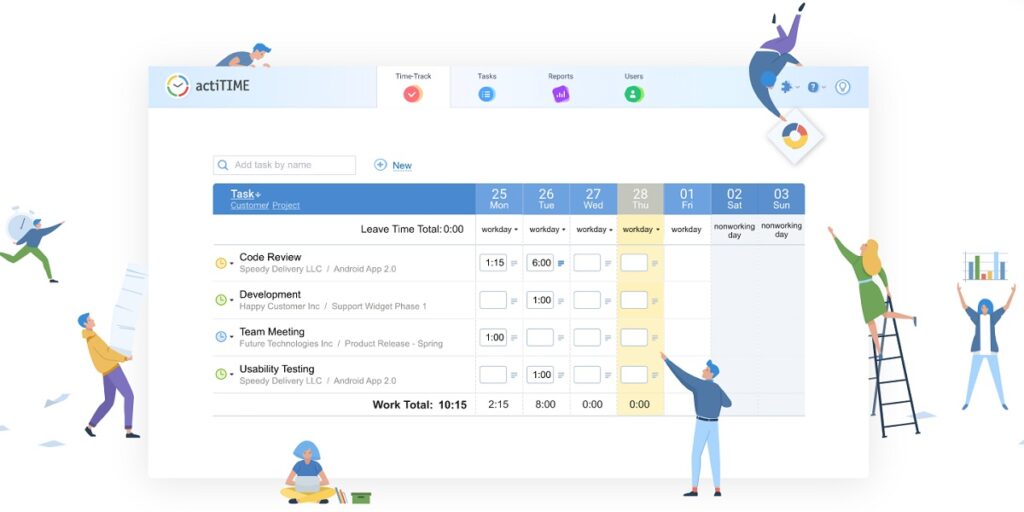 To be efficient at studying or teaching, one needs to invest much effort into learning and self-development. However, it doesn't mean that you have to overwork and exhaust yourself to see favorable results. On the contrary, to attain goals, you should work moderately and maintain a proper work-life balance.
Task planning and organization are the perfect means to achieve that and become successful either as a student or as a teacher. With actiTIME, a high-quality timesheet and project management tool, you can easily excel in implementing them both.
actiTIME has three essential features that teachers and students may benefit from when organizing workloads:
Scope management lets you create different projects and tasks and monitor your progress in their completion;
Timesheet allows for keeping a record of hours spent on diverse activities;
Reports give a thorough overview of performance trends and statistics.
In this way, actiTIME helps you see how efficiently you use time and provides data needed to make smarter work management decisions.
actiTIME is also highly flexible and simple to use, which makes it suitable for individuals and teams of any size alike. In addition, it's very affordable – while large firms can buy the tool at low fixed annual costs, single users and small teams can utilize it at no charge for an unlimited time. Sign up for a free actiTIME trial and bring your productivity to the next level.
TailorBrands powered over 1 million small businesses with awesome logo designs, including tons of WordPress websites.
It has 14 million users from all over the world and it was used for over 500 million logo designs. In each second a new logo design is being made.
What is everybody loving at TailorBrands? Here are some great reasons:
This logo generator is not using templates. Each logo design is unique.
AI software is leading its niche. Millions of dollars were invested to create the best possible software for logo creation.
Logo designs created by TailorBrands can be fully customizable and you can download them in high-quality, vector, svg or eps files.
The process is fast, simple, and straightforward.
You pay only if you want to download the logo design you just created.
The prices are extremely small.
Logo designs are spectacular.
Try TailorBrands and see how easy it is to create a gorgeous logo, in just a few minutes.
Tatsu Builder – Light Weight Page Builder for WordPress
You are looking for a great page builder for WordPress that you can use with no experience and design skills? Look no further, Tatsu is the right page builder for you.
This lightweight page builder is extremely fast, easy to use, intuitive, and fully loaded with tons of elements, widgets, customizations, and a super drag-and-drop builder.
Tatsu is a complete page builder that has everything you need to be included.
Check how it works.
Total – The Most Complete WordPress theme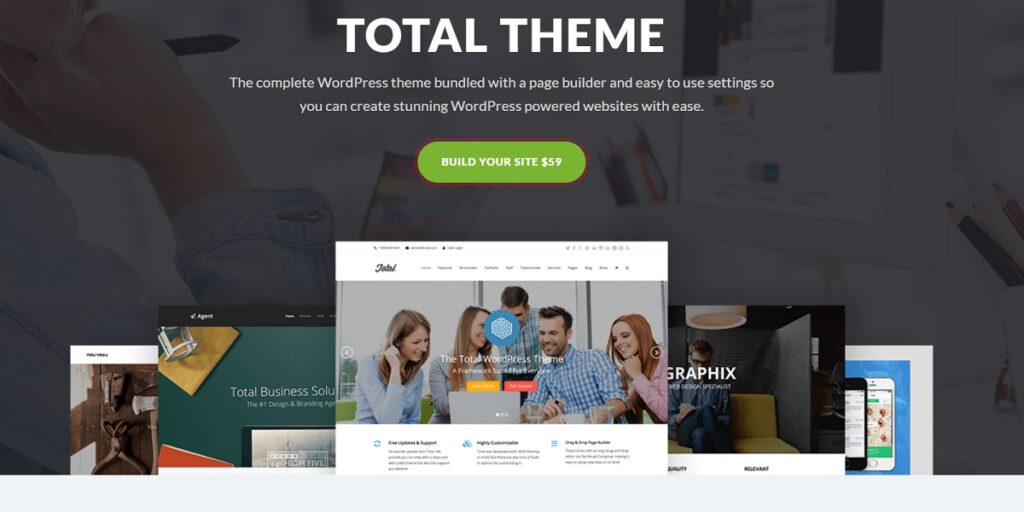 If you are looking for a premium WordPress theme that has included everything you need, which is easy to use, and which will help your website get more traffic and conversions, then you should find out more about Total.
It is packed with over 40 gorgeous premade designs that you can install with 1 click, custom card styles, and tons of elements and customizations. They even included 3 premium plugins in Total – Visual Page Builder, Templatera, and Slider Revolution.
Supercharge your WordPress website with Total, you will love it from the first moment.
Taskade is a complete and all-in-one collaboration platform that helps you brainstorm ideas, manage all kinds of projects (there are over 300 workspace templates), organize tasks, and even more. You and your team will keep everything in one place – your files, your notes, workflows, and tasks.
Use Taskade to video chat with your team, make notes, and increase productivity with mindmaps and task lists.
Start a free plan and see how it works. Both you and your team will love it, helping you get more things done in less time.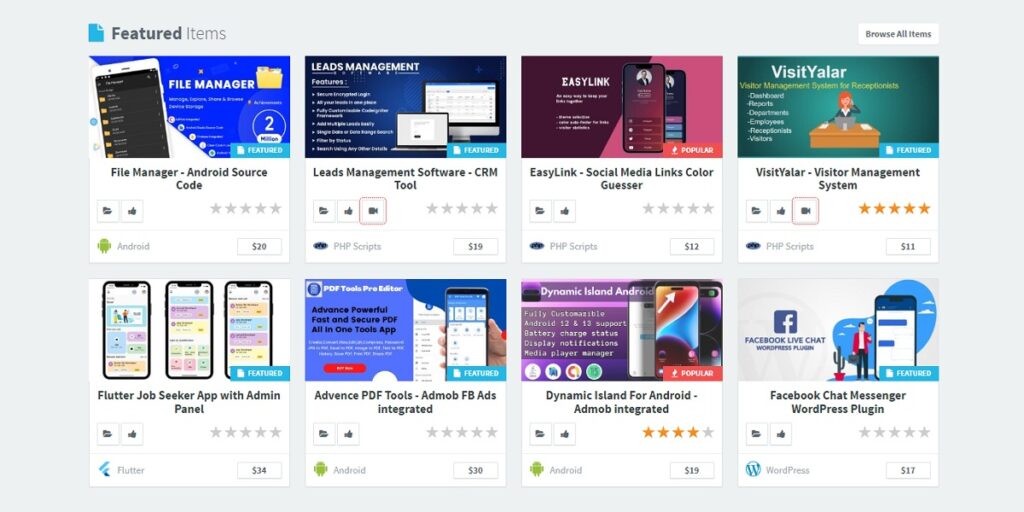 Codester is a huge marketplace where you will find tons of WordPress themes and plugins, PHP scripts, all kinds of apps, and even free stuff.
Check it.
FixRunner is a highly respected and popular WordPress support and maintenance service. Websites from all over the world use this service to save time.
They will take care of your WordPress website and you can focus on whatever else you want.
Get a monthly plan or a one-time help, these friendly experts will do wonderful work for you.
Whenever you are looking for new web tools, check Webdesign Toolbox. This is a premium directory where everything is handpicked.
In each category, you will find several solutions to pick and you can easily compare them.
Browse Webdesign Toolbox and see what they have to offer you.
Mobirise is the leading offline website builder in 2020, being the most complete and easy to use.
The builder has an immense library of 3600 awesome website templates, sliders, galleries, forms, popups, icons, and much more.
Create gorgeous websites with Mobirise and convert them to WordPress. You don't need any experience or design skills.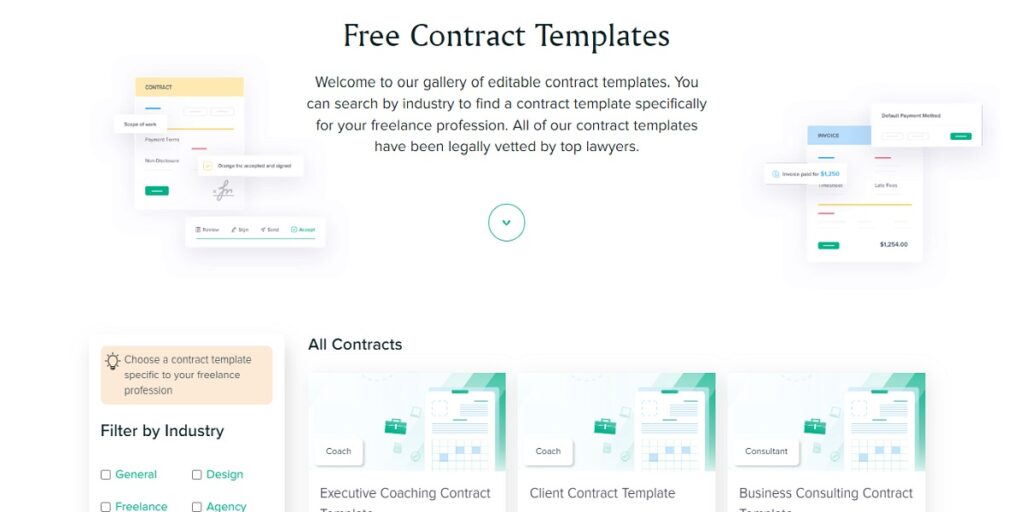 Whatever your profession is (marketer, designer, developer, writer, etc.), you need to protect yourself with a professional contract. It is not easy to write one, but the good thing is that Bonsai helps you with a contract template that you can use right away. The contract is fully adapted to your profession, you just need to select the one you have.
Start free.
WooCommerce is great but in some cases, it is quite hard to install, configure, and fix errors.
If you need help, get in touch with WPCustomify, they are experts in WooCommerce and they do work fast.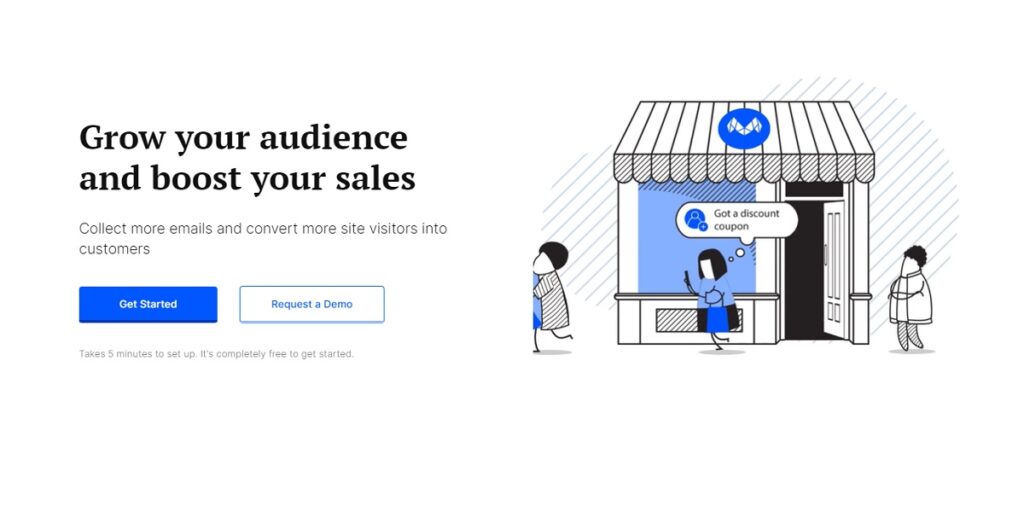 Mailmunch is a powerful lead generation and email marketing tool that you can use to create and launch drip campaigns, create high-converting landing pages, to capture abandoning visitors (you use 6 different form types – pop-ups, top bards, embed forms, fullscreen covers, sidebar widgets, and scroll boxes), and even more.
Use Mailmunch to convert visitors into customers and subscribers.
Do you want a professional WordPress theme that is easy to work with, install, configure, and fully customize?
Uncode is one of the ThemeForest top-sellers WordPress themes with over 75.000 sales that comes loaded with over 70 gorgeous predesigned layouts that you can import with one click, making your website look exactly as the demo.
Pick the layout you want and fully customize it with the front-end smart editor.
Check the live preview of the theme to see how cool it is.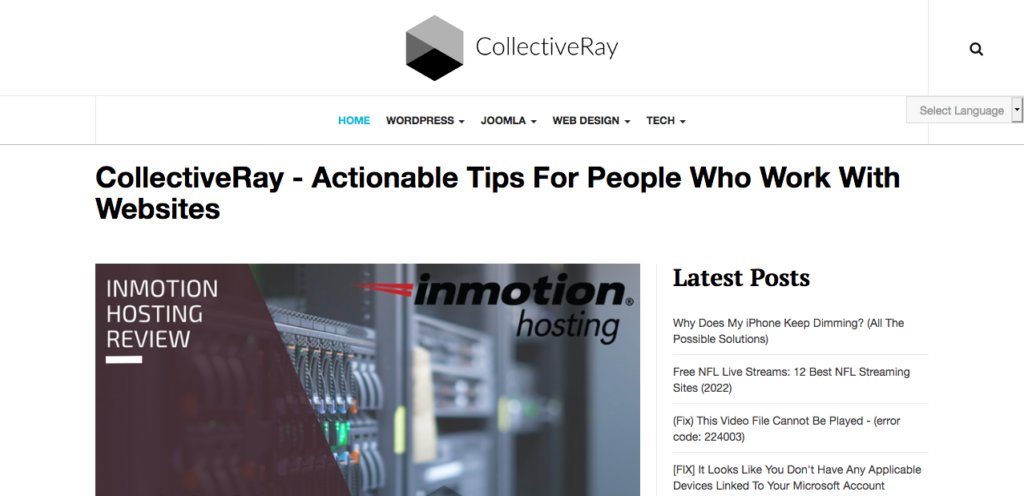 Tens of thousands of people from all over the world visit CollectiveRay regularly as this place provides some of the best tutorials and detailed reviews about WordPress and other platforms.
Check it.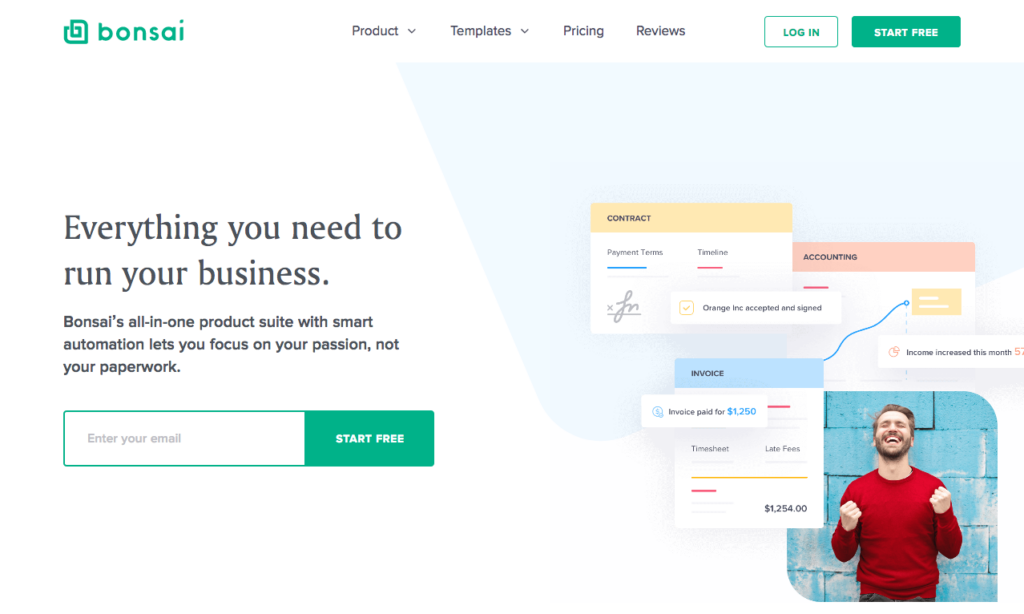 Bonsai is the leading software for freelancers and now they even help you with an online contract maker that you can use with no experience.
Generate a legally binding contract for any type of work in just a few minutes.
Use Bonsai's free online contract maker.
UPQODE – eCommerce Website Development Agency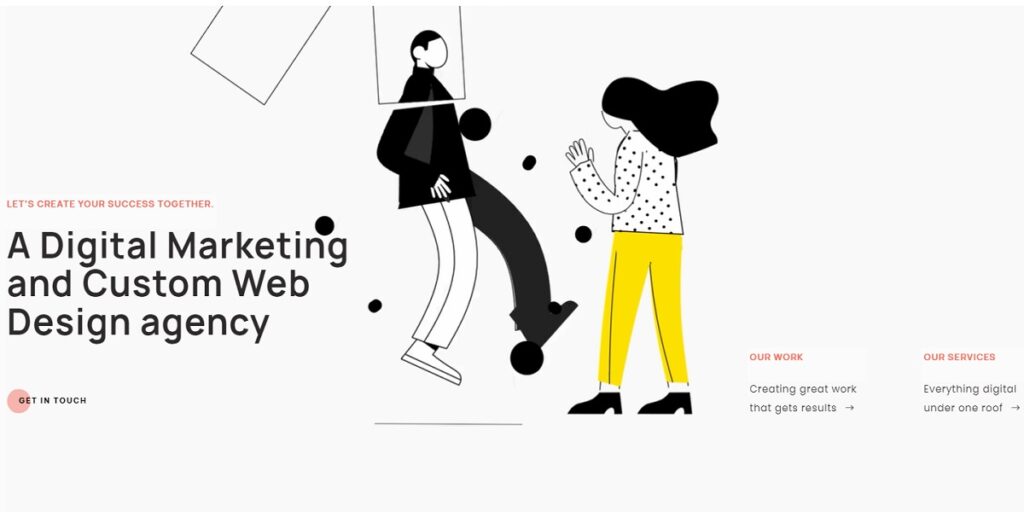 UPQODE is an US-based eCommerce web development agency that builds platforms for online shops and eCommerce websites for smaller companies. UPQODE also provides digital marketing services, like SEO, SMO and social media ads, Google Ads setup, and others.
All in all, it is a company with a team of professionals in the digital field that devote themselves to making their clients' businesses grow online.
Do you want to create engaging WordPress pages and websites, but you lack the experience and design skills?
No problem at all, Brizy is the simplest builder that you can use in 2020.
You will find included tons of pixel-perfect templates and elements, and the interface will guide you every moment.
Give it a try.
WhatFontIs will help you identify fonts with ease, for free, from pictures, websites, emails, and newsletters.
It is packed with over 620k indexed fonts, and it is the only system that identifies both free and paid fonts.
Identify the fonts you like and install them on your WordPress website to improve its design.
If your business or blog uses complicated technical words, you should add a glossary so your audience can easily understand what you are saying.
Heroic Glossary is a free WordPress plugin that you can use right away, with no experience.
Download it for free.
Use the Heroic Table of Contents free plugin for WordPress to supercharge your articles with tables of contents.
Your readers will highly appreciate it, giving you in return better website stats – traffic and conversions.
Download it for free.
FoxMetrics is a premium analytics platform that you will love from the first moment. It solves the big issue that we all have – understanding the metrics that we have on our front.
The interface will always show you easy-to-digest and understandable analytics, helping you make the right decisions each moment.
See how it works.
Free email validations are no longer a myth, Antideo email checker plugin comes with unlimited email validations for free. The plugin is owned and maintained by Antideo Email and IP Intelligence Solutions, an API to check valid emails, IP health, and phone numbers. The plugin comes with an email address format check, MX records validation, generic email check, etc out of the box and you can switch the features on or off according to your preference.
In case you currently face the need to get a website for effective business promotion, then you won't find a better solution than uKit website builder. The system comes with multiple highlights, including hundreds of responsive designs, handy widgets, powerful template customization tools, and advanced eCommerce and blogging engines. It can be equally used by first-time developers and proficient web designers, willing to go live with their projects.
Adding schema markups is usually difficult and time-consuming, especially if you have a large website.
To save tons of time, use the Schema Pro plugin for WordPress. It will automatically add the schema markups to all the selected pages in just a few minutes.
This will help your website rank higher in search engines.
Rank Math is a free-to-use WordPress SEO plugin that will 2 things for your website:
It will help it rank higher in search engines.
It will provide more traffic from the existing content.
Get it now for free.
Are you right about creating a web form for your WordPress website? Then step form is a perfect solution to go for. The service was created with the needs of web design experts, beginners, and businesses in mind, helping them design high-end online order forms to come up with their project needs. A set of integrated ready-made templates simplifies the process of design customization, ensuring high-end results in the long run.
pCloudy has a huge pool of users and it is used by all kinds of companies, including huge corporations like Philips, Honeywell, and Jio.
This mobile app testing service is feature-rich, it is simple to use, efficient, and affordable.
Sign up for a free trial and see how it works.
If you currently encounter the necessity to switch from Wix website builder to WordPress, then don't pass by Wix2WP.Pro. The service has won user popularity due to its professionalism, experienced team of web design pros, and cost-efficacy. They ensure the all-in-one website transfer approach, paying special attention to your project parameters and specifications. You don't have to be a coding pro – just contact the system and watch the result.
You designed a super website and you need a service to convert it to WordPress?
Let Fantastech experts help you. They have over 8 years of experience in this market, and they did thousands of websites so far.
Get a quick free quote right now.
48HoursLogo will help you launch a design contest (for only $29) and let real graphic designers compete for your prize of $99.
The results are impressive, try this service.
FC United is a bestselling WordPress theme, designed for football/soccer clubs and all kinds of athlete, trainer, coach, and sports services websites. This template includes more than 10 Theme Demos for football, basketball, soccer, golf, and other sports. FC United theme is compatible with many extremely useful plugins. Choose either SportsPress or JoomSport to add team, league, and club management features to your website in a single click. If you want to get more creative, use Elementor builder and 50+ pre-made blocks to quickly create amazing content of any kind. FC United theme is extremely clean, dynamic, and informative. Choose it to create a sports website and you'll enjoy the diversity of tools and elements you get!
Are you looking for a template for a spa salon, massage agency, beauty, hair, or nail salon? Jacqueline WordPress theme is a top option in this case. Developed with the aesthetic of the beauty industry in mind, this versatile template lets you create an engaging, attractive, and high-converting web presence. With custom widgets, content types, and Instagram Feed plugin, you get a chance to present information about your company in a way it's visually appealing and easy to digest. This theme was created with the help of WPBakery Builder. You get this drag-n-drop website builder pre-packed to build the layouts and content of any complexity on the go.
RumbleTalk will add a moderated chat on your website, for free, without you writing a single line of code or having any experience.
Start a free plan.
Fotor is a powerful online photo editor used by tens of thousands of web strategists, marketers, and web designers, to create engaging content.
Here you will also find great Facebook post templates that you can easily edit and use in your projects.
Use Fotor, you will love it from the first moment.
Update the website of your non-profit organization or social activism project with an impressive and usable style by means of the Impacto Patronus WordPress theme. This is a multi-concept design that includes a selection of 8 stunning homepage demos suited for such topics as a charity, volunteers, politics, fundraising, environment, social movement, voter's petitions, social justice, healthcare reforms, and more. It's based on the powerful ThemeREX framework and is built with the Elementor page builder. Using the drag-and-drop functionality of the latter, you can modify any element of the theme code-free. The Impacto Patronus theme is fully compatible with a range of WordPress plugins and extensions. It is SEO-friendly and mobile-ready.
Are you right about moving your website from/to WordPress? Then take your time to hire SiteBuilders.Pro experts to help you complete the task in the best way possible. They have a rich portfolio of successfully completed projects you can view to make sure they are real pros. The service employs skilled and knowledgeable experts, who do all the jobs in manual mode to ensure the utmost reliability and the best result possible.
Controlio is super-advanced PC monitoring software that you can with ease, to improve productivity and security in your company heavily.
See how it works.
SuperbWebsiteBuilders.com presents itself as an informative blog focused on website building. This is the place, where you can come across multiple reviews and comparisons of popular website builders – both all-in-one and specialized. The resource also abounds in hosting provider reviews and there are also top ratings and comparisons of the most popular systems that are in demand with users around the globe.
Opinion Stage will help you create awesome Facebook quizzes that will drive traffic to your website and boost engagement rates.
Try it.
The abstract is the most popular IP geolocation API, used by over 100,000 developers from all over the world.
Among the most important features, we can note:
It is easy to implement.
The API is ready to scale.
Abstract has the fastest APIs in the world.
Reliable uptime and excellent technical support
Get your free API key right now.
Have you ever tried business automation? It is the best skill you can learn in 2020.
Use Content Snare to automate content collection. After a super quick and straightforward configuration, the platform will automatically gather content in your place.
It will help you save tons of time. You will decide what you will do with the time you just gained back.
Sign up for a free trial.
Ozeum's stylish, modern design is perfect for building an art-related website, such as an art blog, museum website, art convention, or even an online art store. It comes packaged with a variety of pre-made styles, subpages, widgets, and shortcodes along with the one-click demo content installation option to help speed up your work with the theme. Integrated with the Elementor page builder, it is highly flexible and simple to edit. The bundle also features a number of premium plugins that extend its functionality even further, including the awesome Events Calendar, Essential Grid, Revolution Slider, Contact Form 7, MailChimp for WP, WooCommerce, ThemeREX Addons, and more.
This is the top-rated plugin in the WordPress.org directory which is used to add extra product options to the product detail page of any Woocommerce stores. This plugin also called Woocommerce Custom Product Addons by Acowebs allows website owners to customize the product detail page fields according to their product type. Adding a conditional logic or, applying a custom price formula, etc are some of the many features of this plugin available in the pro version.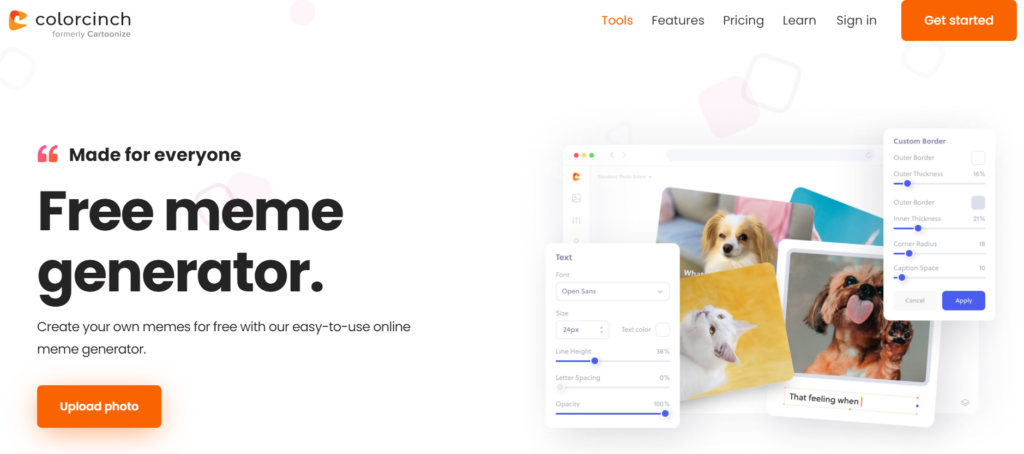 You must design beautiful graphics to come along with your content, and Colorcinch can be your go-to tool for that.
Colorcinch comes with AI-powered photo effects and editing features, you can instantly turn an ordinary photo into stunning artwork. You can crop, resize, and compress your images to reduce loading time and improve your SEO. Make your images pop, add drawings and creative overlays, and just be creative in taking your blog photos to the next level.
Conclusions
Many times, the only difference between awesome WordPress websites and average ones, is the tools and services one uses.
For example, you can use Goodie, a super affordable web development service for your WordPress website to make it better. The results are impressive.