With the onset of the pandemic and the widespread introduction of remote work, the use of smartphones has skyrocketed. According to Similarweb research, mobile traffic will increase by 30.6% in 2020. Social networks, banks, marketplaces – more and more of life is moving into our smartphones. Therefore, businesses need to know and consider the main trends in developing apps for android and ios to allow customers to use the best solutions. What companies should pay attention to in 2022? Let's find out together?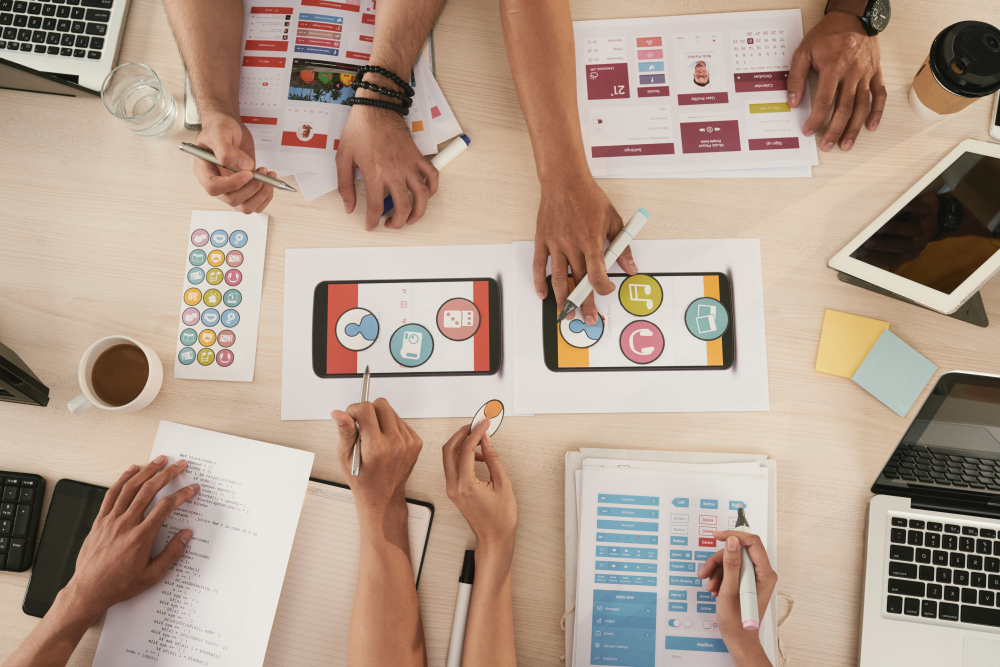 Neural Networks
Represent a simplified model of work, as in the brain. The network is equipped with computational units – neurons, which are connected through synapses. They are used to transmit and process signals. This structure makes it possible to analyze, memorize and reproduce incoming information.
Neural networks can be used to solve various business problems:
Recognize images from the found pictures. For example, there are neurons that perfectly recognize the breed of dogs or numbers on bank cards from photographs. By the way, the Tesla autopilot is also built on a modern ultra-precise neural network only from observation cameras, without any lidar.
Create chatbots. During the call, the system itself collects and processes information. The bot uses the network to build personalized communication with clients: how to contact them, what style of communication to use, etc. This helps to save on employees. For example, you can reduce the technical support staff – leave specialists to solve individual issues, rather than template correspondence. Chatbots are getting smarter and friendlier every year. Let's give them time to grow up.
Provide forecasts and recommendations. With the help of technology, social networks study the content that users choose and offer similar materials. For example, on YouTube, 70% of videos are found by users thanks to the recommendation algorithm.
With the development of neural networks, voice assistants with speech recognition have firmly entered our lives. They tell the weather, turn the right music on, and keep up the conversation.
Neural networks have not bypassed even psychology. Virtual specialists were especially in demand with the onset of the pandemic. For example, a virtual psychologist – the SimSensei project – analyzes facial expressions, posture, speech, and non-verbal cues. Such applications sometimes replace real psychologists, allowing creators to save on salaries, vacation, and sick pay for employees. Therefore, in 2022 this area will only develop.
Augmented Reality AR
With the help of augmented reality technology, we can visualize objects. For example, spin your future laptop right on the table or estimate the size of the desired chair in the corner of the room. GORA Studio's four years of experience helped develop ARchiteque, where you can view the smallest details of accurate 3D models of architectural structures and objects. In the ARROUND social network, it is easy to be transported to the universe of pre-realities with your head. And in the PeekUp app, you can meet people put on and take off each other's virtual masks.
AR (augmented reality) is used in various fields. For example, in medicine, a special device helps see the vessels and perform an operation. In logistics, the headset projects information about the product and its location in the warehouse. In Cadillac vehicles, augmented reality mode, which is projected onto the windshield, helps you find the right turn or lane without being distracted by the smartphone screen. Also, AR began to be actively used in retail. For example, using the Wanna service, you can integrate the function of virtual trying on sneakers for your application.
Speech Synthesis
The essence of synthesis is the transformation of text into speech. The technology has been around for many years, but only in recent years, it has gained worldwide popularity with the development of neural networks and the growth of computing power. Already today, with the help of neurons, it is possible to synthesize speech at a speed of 1 hour of voice (about 10 thousand characters) in 10 seconds. Pretty slick. In addition, speech synthesis supports 10 major languages, including even Turkish. For example, you cannot guess so easily where the speech of the neuron is and where the BBC announcer is.
In business, speech synthesis can be used for a variety of purposes. It is possible to set up voice alerts for customers from different countries in their native language as an option. Set up automated user support: provide account information, offer instructions for solving problems, or simply report good news. In addition, a movie, series, or personal recording can be translated into any language and voiced in real-time.
Digital Clothing
The direction in the digitalization of clothing as a separate product is actively developing, which is made in the form of three-dimensional or animated images. This technology directly responds to trends in sustainability and the rejection of excessive consumption. You can rent a branded item and take a photo for Instagram: likes for you, and safe for nature.
Many fashion houses became interested in the direction: Balenciaga, Marc Jacobs, Valentino. Now such clothes are not just a trend. It costs money, which means it is an indicator of the status of its owner. An industry that actively attracts finance will continue to develop further, delving into other areas. For example, if there is a big virtual world, as Mark Zuckenberg plans with the Meta-universes movement, any clothes on the avatar will cost money. Now gamers spend money on the bow and skill of their game characters, and they will dress in the future.
NFT
NFT allows you to create a digital certificate securely stored on the blockchain. The token is attached to your unique photo or video, which can be put up for sale or auction. In addition, authorship is assigned to you, and when sold, the work will pass from owner to owner and increase in price.
NFT is already actively used in games to tokenize virtual items and art and collecting. The technology claims to be further developed in other areas. Thanks to NFT, any invention will be protected from illegal copies and fakes, making it unique. This is a good opportunity for businesses to create their collections in digital art and not worry about their safety. And for museums, galleries, art teams, and artists – to expand and surprise a young audience.
QR
Adverts, emails, promo codes, and more, QR codes can display and hold all of this information. Businesses should use TRUiC's QR code generator to help business owners create codes of their own.
Expertise in several areas is much more important than superficial knowledge in many areas, and the main components of a good result are a team and people.