Club websites are necessary for any club that wants to attract and retain members. Because of advances in membership software, it's no longer a requirement to hire a developer or designer to create a club website with robust features. Whether you are hiring a developer to facilitate a smooth process or if you are designing a club's website yourself, you'll want to include these features.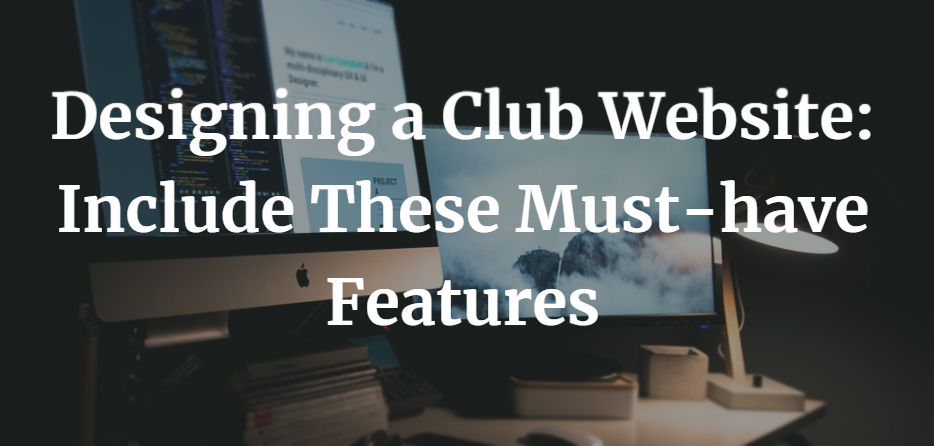 Event registration
New clubs often limp along without a website. Events are usually the core benefit of club membership, so sometimes event registration software is enough. New clubs might host free events to attract prospective club members; some use Facebook events to collect RSVPs without having a website. (Note that it's a good idea to charge something for event tickets as your no show rate will probably go down drastically once people invest in a paid ticket.)
Even with a variety of registration software options to sell event tickets, your club might want to offer member tickets at a discounted price or host a members-only event. Then you have a problem. Do you go with the honor system and hope that non-members won't try to register for a member ticket? That's not ideal. Instead, you should look for a membership platform or a WordPress membership plugin that includes an online calendar and registration that's tied to the member database. Having a system like this will even allow your club to have a members-only calendar if you host private events at members' homes.
Membership management
The benefits of social connectedness that stem from attending club events and belonging to communities like clubs can play a role in the longevity of member's lives. Belonging to a club usually requires paying dues, and the modern way to collect dues payments is through a membership website. While some clubs manually maintain a spreadsheet of renewal dates and member contact info, it's not necessary to do things the hard way. This process can also endanger the health of the club itself if transitions between membership chairs or staff are not performed with care and instruction.
Membership software handles sending out renewal notices at the right time and provides a way to collect online payments. It can increase your revenue and volunteer resources well:
It enables auto-recurring credit card payments. This eliminates the requirement for the member to take action to renew.
Membership software's automated, accurate record-keeping can spur renewal income when members realize that they can't purchase a member event ticket because they are past due.
With automation, the club membership chair can focus on member recruitment and retention instead of spreadsheet tedium.
Online member directory
Club members like to connect with each other outside of club activities, but the days of the printed membership directory are mostly behind us. Whether it was the cost of printing, the privacy concerns of some members or the fact that it became out-of-date almost immediately, the printed version pales in comparison to its online descendant. With an online membership directory:
Members can log into their own profiles to set their own privacy settings and edit their contact information when it changes.
Through the use of tags or labels set up in the membership database, members can find other members with similar interests, skills, certifications or other relevant groupings more easily.
No spreadsheets are needed. Manual maintenance of member records is often limited to calls or emails from club members who are technologically challenged and seek help.
You can create a paid directory as an additional source of revenue.
Members-only content
Most clubs have documents or communications that are restricted to member access only. Perhaps bylaws, charters, planning documents, member survey responses, demographic information, or special reports are only available to members or even just the club's board of directors? Your membership software can help you restrict access to parts of your club website. And you can apply restrictions by various levels of access. Sometimes it's just as simple as dropping a shortcode onto the pages that need to be protected.
Bonus features
While these features are not a must-have, your club website might benefit; check to see if your prospective membership software provides them.
Newsletter ad sales or merchandise sales are handled through a shopping cart.
Online survey forms.
Committee sign-up forms.
Donation forms.
Add on items like recurring donations that can be billed along with membership.
Advanced event features like the ability to purchase merchandise along with an event ticket.
Integrations with popular software such as Quickbooks, Xero, and MailChimp.
Mobile-responsive design for all features and system emails. This actually is a must-have feature given that at least 50% of web traffic is mobile.
Got other ideas? Let us know in the comments!
Amy Hufford is a Technologist at MembershipWorks. She has worked in non-profit and membership technology for more than 20 years and has experience with a variety of donor and member management software platforms.