Social media is multiplying, and more and more social media platforms are coming up to try to gain market share. With names like Instagram, Snapchat and TikTok paving the way for new visual and mobile application based platforms, we will likely continue to see this type of trend in the coming months and years. As of today, in 2020, there are 3.81 billion social media users globally, according to Datareportal.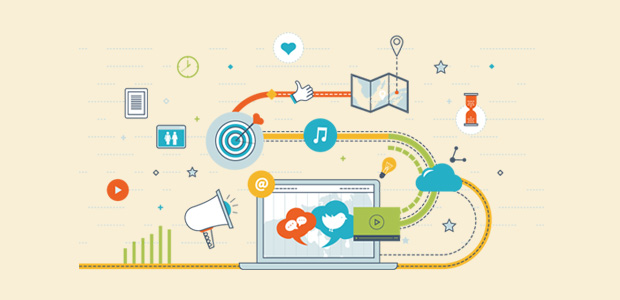 Therefore if you asked the question of: Should I invest in social media as part of a digital marketing strategy? The answer would be a resounding, yes. With so many different individuals accessible through a handful of platforms, it's actually a complete no-brainer. And as you can tell, the expansive growth of social media must be heeded and reacted to swiftly as more money continues to flow into this space year after year.
Before you move all of your efforts towards social media, you must make some exciting changes to your website to get the best rewards. If done right, you will essentially create an alternate traffic source without having to rely on temperamental search engine traffic.
Sounds good, right?
And the good news is that the numbers are showing that opportunities in social media are ripe for the taking if you exert some initiative. This is also true for many different marketing agencies and social media managers looking to step up their game and bring in new business. Every website and brand has a need for improved social media marketing, but how many freelancers and agencies pushing the management service are actually worth it?
This is something all businesses and brands need to consider. It's also not only important to have a social following in place, but knowing how to monetize that audience as well. Brands that put in the time and effort to learn more about social media advertising and using pixel tracking and demographic targeting in their campaigns often see a 10X increase in engagement and ROI.
Therefore in this post, you will find simple ways you can improve your social media traffic by enhancing aspects of your website. Ultimately this will play a vital role in bringing more customers to your website and generating more revenue.
Use Recommended Social Media Sharing Plugins
There are many amazing websites, but they do not have any way to share content from their website to social media.
The best way to get people to share your content on social media is to ensure that you activate a social media plugin. It will display the social media icons for Facebook, Instagram, Pinterest, and Twitter either above your post or below it.
This nifty tool is very visual and adds an extra flair to your blog posts, and almost draws in your readers to share the content. When it comes time to find the best social media tools and plugins for your site, be sure to go with ones that are heavily trusted and reviewed by other site owners and bloggers. It's also a good idea to search for top lists through Google, which often feature write ups and reviews on popular WP social plugins like Social Snap, Monarch, Social Warfare and MashShare..
When this happens, they expose your content to a new audience on Facebook. Often Facebook users are quick to share, and on average, a user will have around 300-400 friends who quickly get to see this piece of content and have the option of clicking the link and going to your website.
Create the Right Type of Content for Your Site
The reality is that you have to create content that your ideal audience wants to read; specifically, the title should reflect this content. Content focus comes in many different shapes and forms, and if you are creating it just to rank in Google, that's another story. However, with this article focusing on social media and trying to build a marketing plan that works for your business and brand, you need to make sure your content is real, engaging and provides value to your audience. If these elements aren't in place, then it will quickly find itself cycle through your social channels with little to no engagement.
The reason for this is that people have so much content at their disposal right now, you must make your content distinct. Just take a look at your own social channel and feeds for a moment. How many updates are you quickly passing by, versus how many you are actually clicking on.
The right content is one that speaks directly to your niche and your ideal audience. This content will draw them in, keep them engaged enough to visit your website. It's likely that when your content is shared via social media, many users will ignore it, but if you target specific people, they cannot help but look at your content.
This is the sort of reaction you would be looking for, and that will drive more visits to your website from social media.
And another important thing to note about the content of your site and how you use it within your social media marketing efforts, is that you need to have proper management throughout the content creation, promotion and engagement process. It's extremely important to have a WordPress backup service in place, as you never know when your site could potentially get hacked or your hosting goes down. The last thing you want is for everything to get lost because a simple backup plan wasn't in place.
Integrate Facebook into Your Website
Since the other platforms have grown, many users think of Facebook as an afterthought. Yet it can be a compelling social media to bring authority to your website and generate more traffic.
If, for example, if you have a large following on Facebook, it can be a good idea to share your posts directly to Facebook as a starting point. This will generate significant traction on your posts.
If you do not have a large following, you can always grow your Facebook audience over time, with many currently available tools. With many companies focusing on their follower count and using "Boost" promotions to grab the attention of new users, it's often more effective to put in the time and effort to strategically come up with an effective FB Ads campaign that is built with demographic targeting, pixel tracking, custom audiences and remarketing.
Facebook also provides a wide range of plugins that help people experience your website with Facebook tools. Leverage your current following on Facebook, together with your website, offering to build authority and create brand awareness.
This will also eventually lead to more searches for your brand.
Limit user distractions and increase conversions
One of the most important ways to improve site engagement and bounce rates, is to make sure you are providing your audience with the best experience possible. All too often, we are seeing websites trying to load up as many menu options, sidebar widgets and footer information as humanly possible.
The better option is to focus solely on your site content and what the end user actually wants. This has proven to be extremely effective time and time again.
A perfect example of this can be seen with Amazon, as they are only showing products that are relevant to the user's searching and buying habits, while making the checkout process extremely fast and simple. This ultimately leads to more products being added to the checkout process and higher conversions across the board.
For any ecommerce and businesses selling products online, this is an absolute must. Not only will these changes help with engagement and ROI, but also with SEO as well, as it can lead to improved bounce rates and time spent on the site.
Final Thoughts on Social Media Marketing Best Practices
Looking at some of the quick fixes that could be made to your website shows that little changes can make a big difference when drawing traffic from social media to your site.
Specifically, Pinterest is drawing high potential as their recent stats indicate that a growing number of users are joining the platform in search of quality content.
Other social media also have a track record of growing their social media users, and these can be leveraged over time.
We hope that you realize you can make a difference with direct interventions on your site and apply new tactics that will bring you better traffic results.
Do you think these changes will be beneficial for your traffic stats? If so, please let us know in the comments below!