Discover a new approach to the free website template we share with you today. Having studied latest achievements and design trends we created the goodie which is aimed to please and surprise you with cool navigation and modern design.
Welcome a Free jQuery Travel Theme that will suit not only a travel agency, but sites which deal with camping, hiking, or tourism. The template can be easily changed in accordance with your needs even if you are just a web design beginner.
So, choosing the template you will get a big catching camera slider, nice hover effect and caption within the block Top Destinations. Featured Deals are presented with the use of tabbed navigation.
You will also find SuperFish Drop Down Menu and back-to-top button (JQuery ToTop), as well as, filter options on Tours page which will simplify the search process of your clients. And of course, don't forget about the cute gallery which can demonstrate the best pictures of possible trips your visitors may be fond of.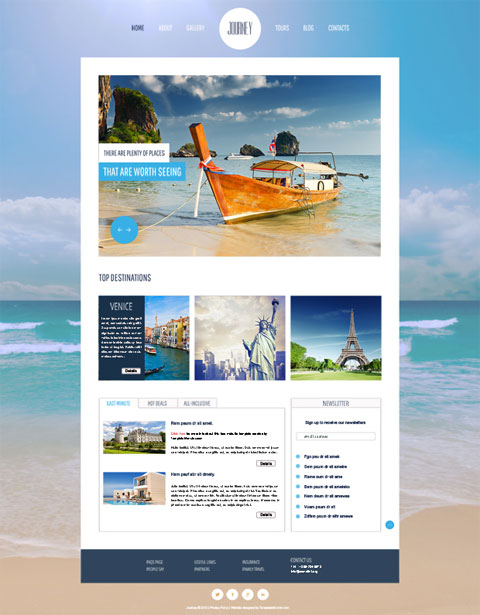 Would you like to check yourself all the benefits of the freebie? Just follow the download link, leave your e-mail and enjoy! You will get the free website template which you can turn into a prosperous website with just a few clicks. So easy it is!