The emergence of the Internet and the development of information technology have significantly affected our daily lives. Undoubtedly, this influence has both its advantages and disadvantages. However, it is hard to deny that the Internet has greatly improved the quality of life, making it easier in many aspects. Those routine actions that we used to spend hours on now take us just a couple of clicks. Online shopping, booking hotels and tickets, various platforms for online learning, reading books and watching movies, and much more are now available from the comfort of your home. As for educational websites, they are especially popular, which is why creating your own e-learning platform is a promising idea. And Educavo WordPress Theme will help you with this, being the best possible web solution for building a top-notch website. Educavo will allow you to create the perfect educational platform that students will definitely appreciate.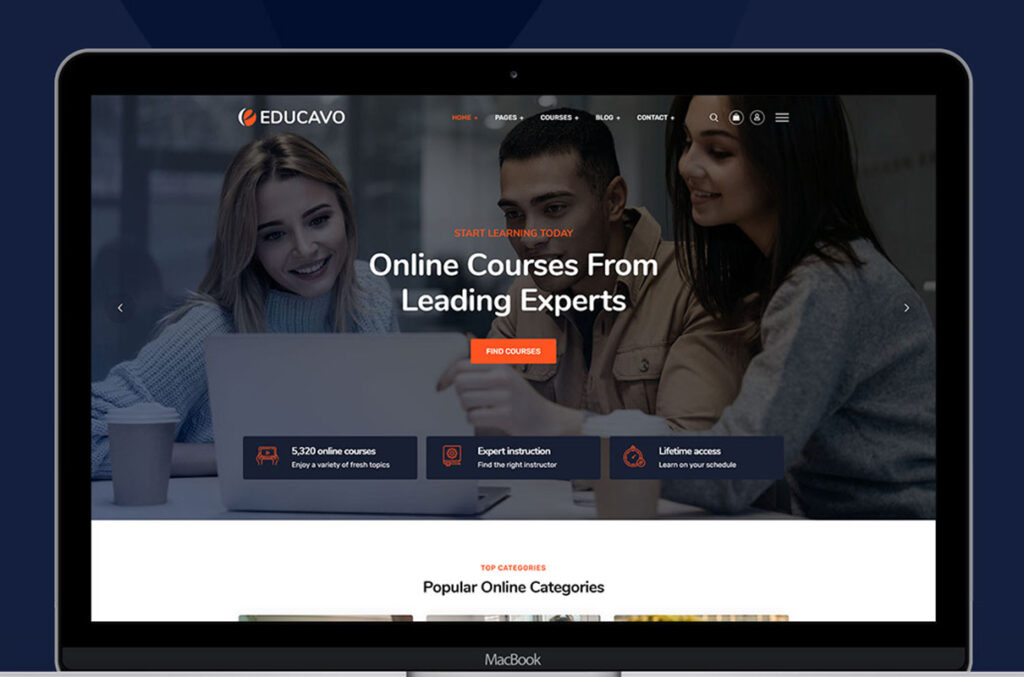 The Internet has many different tasks, the main of which is the storage and transmission of information. Thanks to this feature, we can find out anything in just a couple of minutes by entering the query keywords into the search bar. Thus, the Internet has become one of the most popular sources of knowledge in our time, bringing the emergence of e-learning platforms.
Online learning has gained particular popularity for a reason. With the advent of various educational platforms, people have become convinced that you can learn anything without leaving your home. After the onset of the pandemic, this opinion has only strengthened.
The Internet, being the largest knowledge base, contains millions of valuable educational resources, giving us access to mastering various sciences and skills. Let's take a closer look at all the benefits of online learning.
---
Pros and Cons of Online Learning
The number of online learning platforms continues to grow, but what has made educational websites so popular? Let's find out by taking a closer look at the main benefits of online learning.
The convenience of online learning lies in the fact that neither students nor teachers are tied to a specific location. You can be anywhere since all you need is a good internet connection.
You can also choose the schedule that is the most convenient for you.
Online learning requires less physical effort and time, as there is no need to visit the venue.
As a rule, online courses cost less.
In addition, home learning is more comfortable for introverted students.
Despite all its advantages, online learning is not for everyone. Let's find out why by taking a closer look at some of its shortcomings.
Lack of social interaction and individual approach;
Lack of a good internet connection or gadget;
Various distractions, constantly interrupting and slowing down the learning process.
Considering all the pros and cons, it should be noted that educational websites are definitely in demand. However, to become popular and competitive, your web resource must be of truly good quality. Let's look at what a good educational website should look like.
---
How to Build a Good Learning Platform
You don't have to be an IT guru to create a top-notch learning platform. It's enough to follow some simple rules mentioned below. In addition, ready-made templates will help you with this, greatly simplifying the website-building process. But first, let's take a look at what an online learning platform should be.
Quality Content and Ease of Use
The requirements for the content of this type of website are especially strict since it is a question of information transfer for educational purposes. That is why the content of an e-learning website must be reliable and verified. Any published information contained on the website must have trusted sources and other evidence of its accuracy and authenticity. In addition, as a rule, students do not have time to search for the necessary information for a long time, so it is better that your website is easy to navigate and all content is well structured, and the search for any site section takes no more than a few clicks.
Good Performance and SEO Optimization
As mentioned above, reduce the waiting time as much as possible. Provide your website with high page loading speed. SEO optimization is also important for a website to rank higher in search results, which directly affects its traffic and conversion.
Attractive Web Design and Responsiveness
The design of an educational website should be elegant and concise but, at the same time, stylish. It also should not contain too many graphic elements and overly bright colors that could distract students from the content of the web pages. Also, many people prefer to study or work outside the home, as it is difficult for them to focus in a too relaxed environment and various distractions make this task even more difficult. That is why students often study in libraries, cafes, or coworking spaces, which are especially popular now. Therefore, many students use gadgets for studying, which allows them to learn anywhere, so an educational site must be responsive.
Security
An equally important aspect is the site's security, which is necessary to protect the site and its users, namely their personal data, from hacker attacks and scammers.
As mentioned above, ready-made templates, namely Educavo, will help you create the website of your dreams. Why choose Educavo? Let's find out by looking at the theme's main benefits.
---
Top Educavo Theme Benefits
With hundreds and thousands of templates available, it's easy to get lost. A vast range of ready-made web solutions is striking in its diversity, but at the same time makes it challenging to find the perfect option. That is why we suggest you pay attention to the Educavo WordPress theme, which will help you make the right choice you definitely won't regret. So let's move on to the main benefits of the template.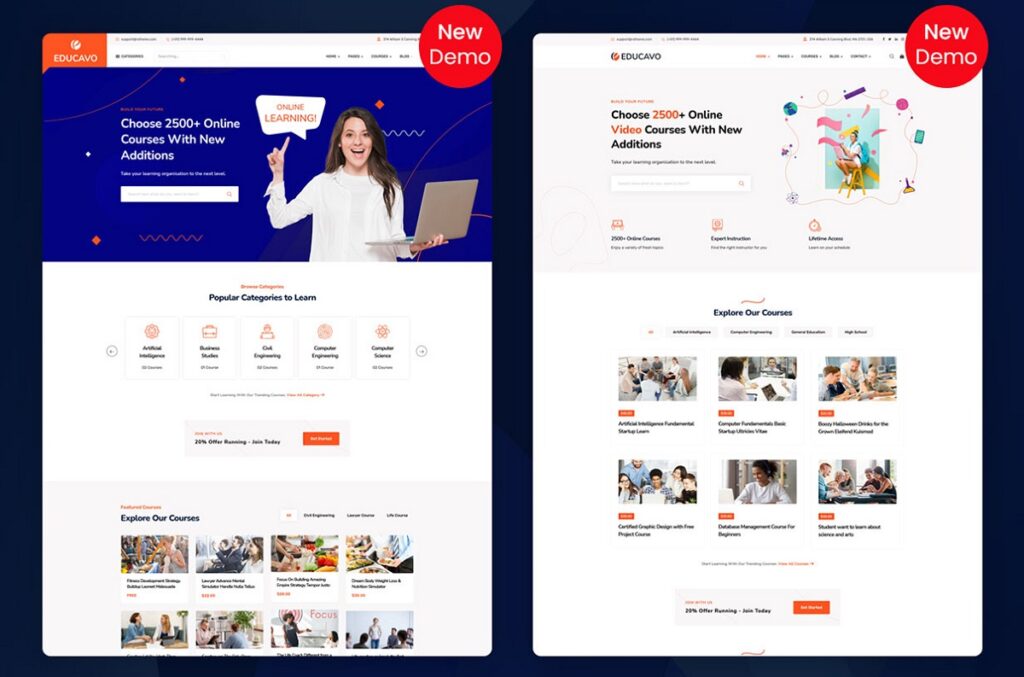 Feature-Rich
Thanks to the multi-functionality of the template, you can create a feature-rich and extremely convenient learning platform that offers students a comfortable learning environment. The theme comes with many features and plugins extending the site's capabilities, including the three most popular LMSs and video conferencing integration allowing holding online classes via Zoom.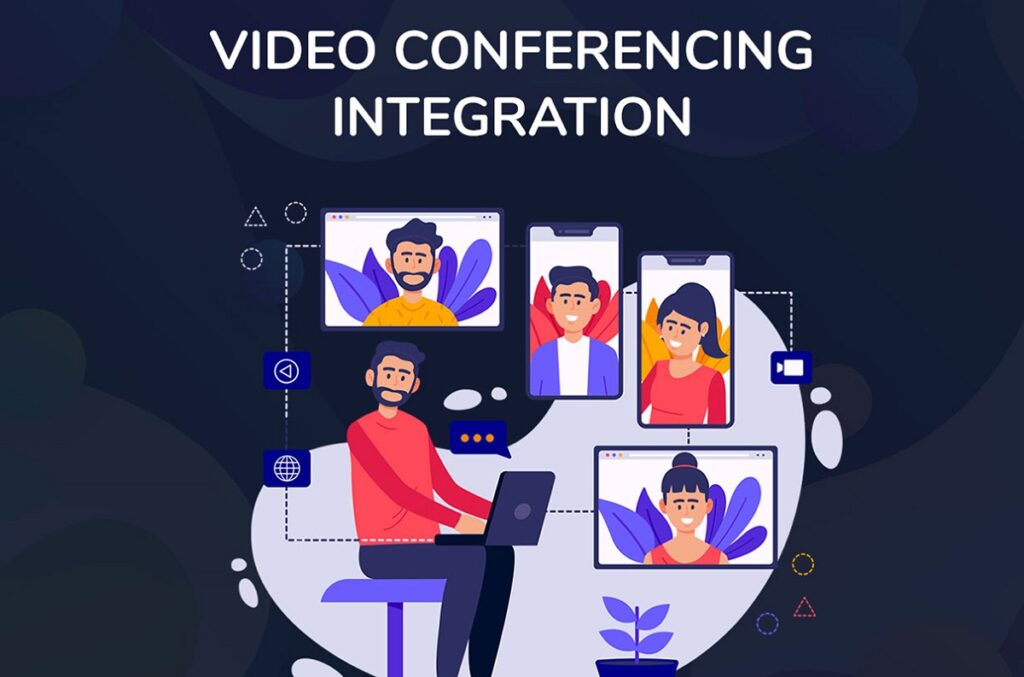 In addition, the template is also WooCommerce compatible, which means that besides an e-learning platform, you can also create an online store for educational materials, including books and various courses.
Highly Customizable
A convenient builder and a lot of ready-made demo options for web pages allow you to quickly customize a website and move on to launching it sooner. The Educavo WordPress Theme offers a wide range of customization options to make your site creative and unique, including many page layout options, over 120 additional elements, the ability to add cool transitions and animations, an endless choice of colors and fonts, and much more.
Multilingual
Translate your platform into any language, including RTL ones, to make it available to users from around the world.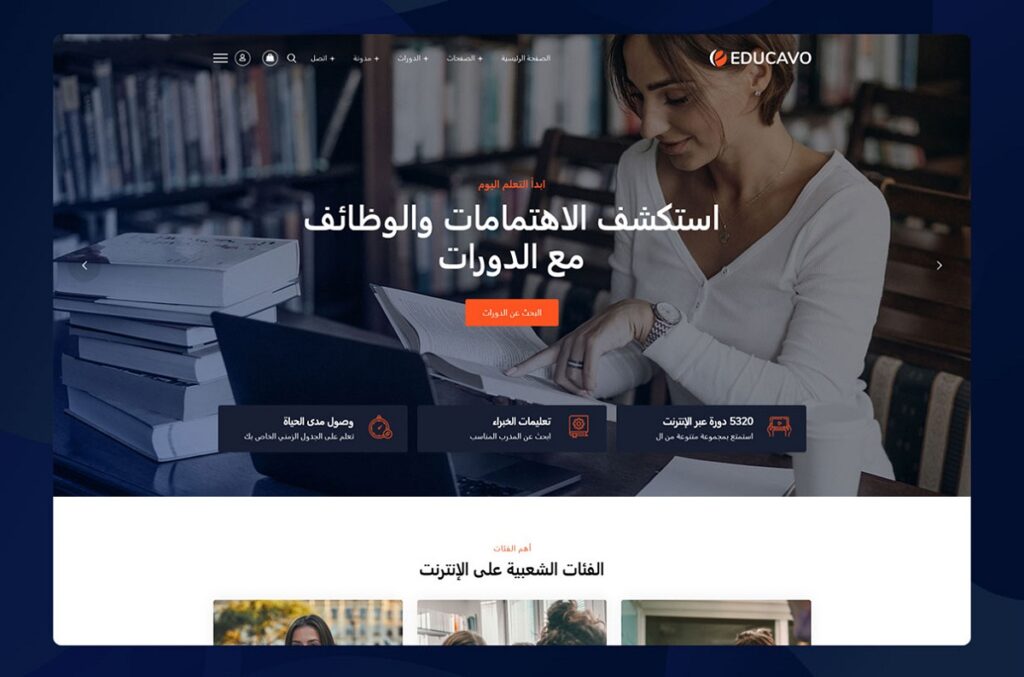 Completely Responsive Web Design
Many students actively use portable gadgets such as tablets and phones for educational purposes, as their compact size makes it easy to carry them around, so you can study from anywhere. The stylish and elegant template web design is also fully responsive, which means that your website will look perfect on the screens of any device.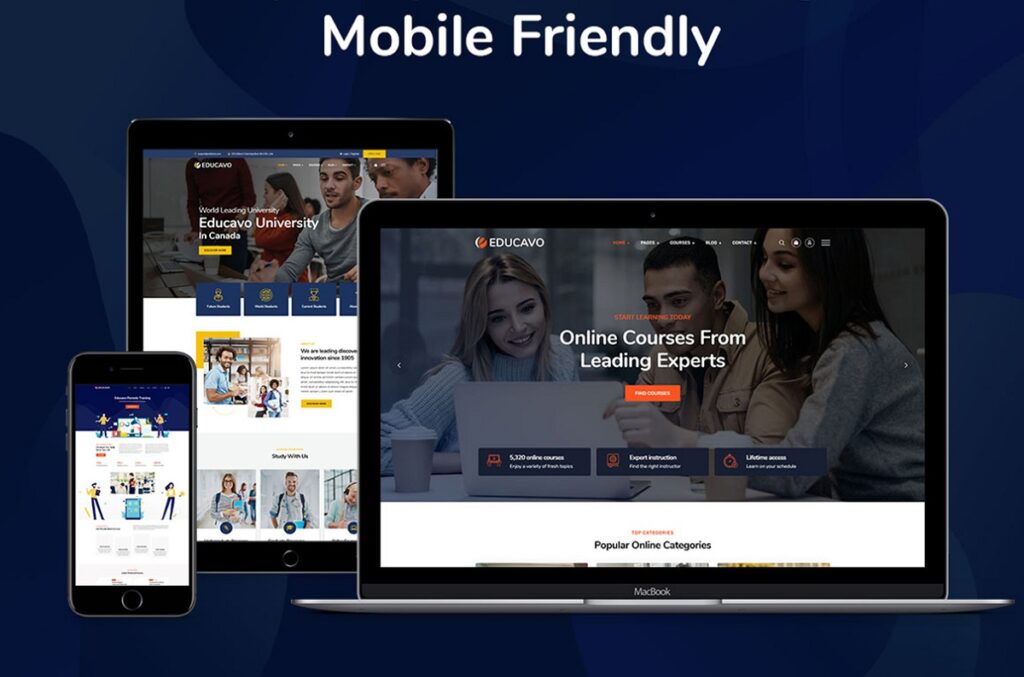 24/7 Support
Feel free to contact the development team anytime. You will get professional assistance as soon as possible. The reliable support service is always happy to answer any of your questions.
Free Updates
Regular updates are included with the template purchase, so your theme will always be up-to-date at no extra charge.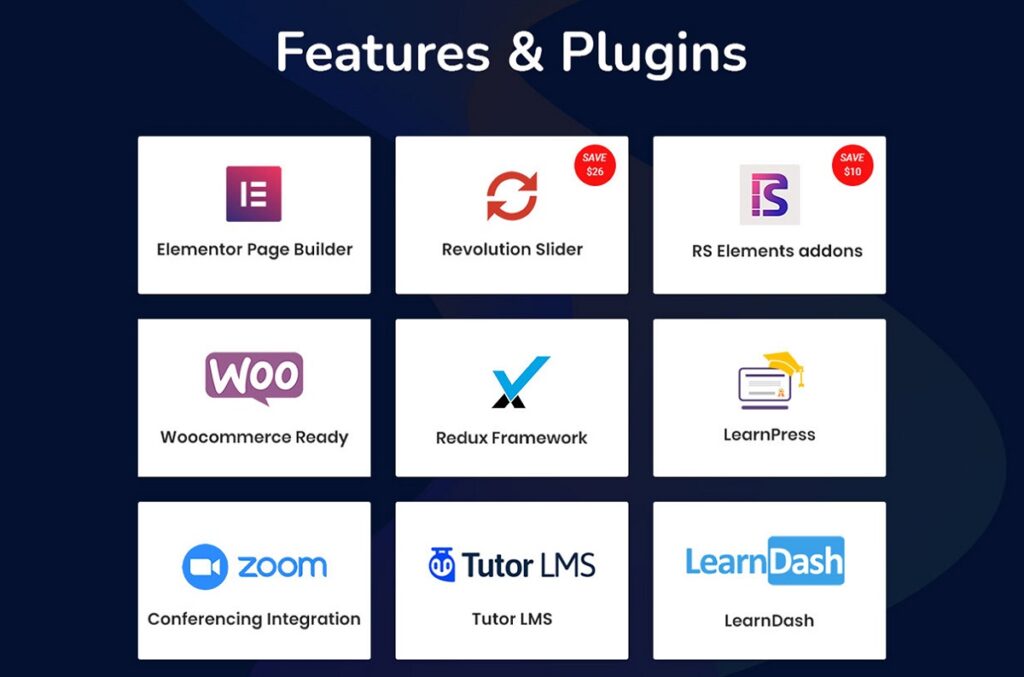 As you can see, with so high-quality and multifunctional templates like the Educavo WordPress theme, creating your dream website is much easier than you might think. So stop hesitating and start building your own storehouse of useful information right now. Share knowledge, inspire students, and show them that the learning process can be not only good for the brain but also fun.
---
Educavo WordPress Theme FAQ
Where Can I Get the Educavo WordPress Theme, and How Much Does It Cost?
By clicking on the Buy button above, you can see the template price and more detailed information about it and its author, including user ratings and comments.
Is the Educavo WordPress Theme Responsive?
Sure, it is. Web design responsiveness is essential since the number of mobile users is constantly growing. That's why the Educavo WordPress theme is mobile-friendly, which means its layout is fully responsive, so you can be sure that the theme's web design will look perfect on the screens of any device.
Is the Educavo WordPress Theme Suitable for Creating an Online Store?
Yes, it is. The template is WooCommerce compatible, allowing you to create a beautiful website for, for example, an online bookstore.
Can I Install the Educavo WordPress Theme Myself?
Sure. The clear documentation and video tutorials make it easy to do. In addition, the support team is always ready to answer all your questions at any time.
Do I Need to Pay Extra for the Educavo WordPress Theme Updates?
No, there is no need for this. Further updates are included with the template purchase and will be available at no additional cost.