Once you are ready with your web project, you must think about its presentation. In fact, it's important to approach this issue with due diligence, as the way you present your work has a direct impact on customers' decision to take it or leave it. However, an effective demonstration of your craft takes a lot of time and requires creativity. And if you put all your time and energy into polishing your design, you may find it challenging to take good care of your project's showcase. This is when PSD mockups come in handy.
In short, mockups can be defined as scales or full-size models of designs intended for demonstration, assessment, promotion, and similar purposes. With their help, you can show clients the way your project will look in its natural environment and get their feedback on it. What's cool about mockups besides their realistic look is ease of use. Thanks to their fully customizable Photoshop layers, all you have to do is to embed your artwork into smart objects by simply dragging and dropping, and it's ready for an exhibition.
Today, you can find different types of mockups, particularly devices, brochures, flyers, posters, business cards, T-shirts, magazines, and others. If you are a web designer striving for a spectacular showcase of your project, check our exclusive set of the latest free mockups of devices. They can be used to display both your overall website design and its certain part. Whether you want to set your work in a larger or smaller frame, our selection has an appropriate option for you. You can choose from desktop, laptop, tablet and smartphone mockups. Portable devices can render the responsiveness of your design, that's why mockups with them are in great demand at present.
Keep in mind that we've filled our set solely with free PSD mockups of 2015 developed by trustworthy resources. They have much more cool mockup freebies that were released in previous years. If you like, you can also check them up. Although they are available for free, they still don't yield to paid alternatives.
So, enough of reading for now. Start looking through our assortment of free device mockups of 2015 below.
Free PSD Mockups of Desktops & Laptops
Let's start with mockups meant to demonstrate UI designs via large viewports.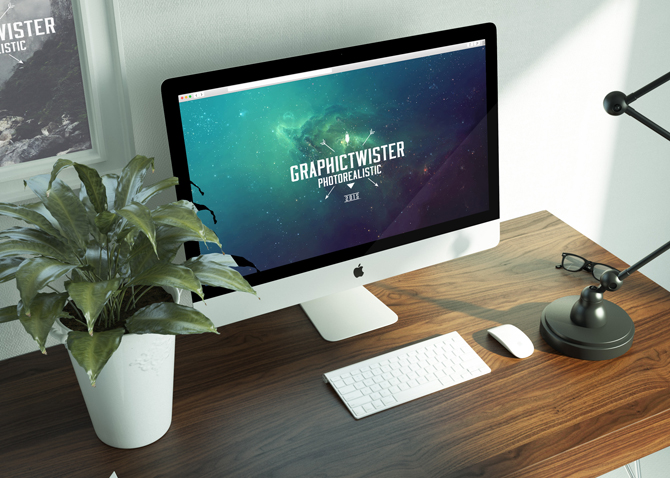 This iMac workspace mockup of 2,500 x 2000 px allows for an elegant showcase of your design by means of an Apple desktop. As a bonus, there is also a wall frame spiced up with a photorealistic effect.
* * *